Hello CP families!
Happy Friday!
Only a few more weeks left!!! Thank you to the PTO for putting on an amazing fun run. The kids and parents really enjoyed it even though the weather did not cooperate. I can't wait until we host it again next year. Please reach out to your classroom teachers to see if they need any assistance with any end-of-the-year events that they may have planned.
Please speak with your children about all of the possible negative effects of social media and the posting of other people on the internet. We need to be a team to help our students know how to navigate this ever changing social media world. We will do everything that we can at school, but we need the support from home as well. Please check your child's social media accounts to make sure that they are not seeing or posting things that are inappropriate. We need to remember that the students are still young children and need guidance and support.
Notice to Parents Regarding Chromebook Care
Dear Parent or Guardian,
This letter is a reminder regarding Chromebook care. We have noticed an increase in cracked screens, along with broken headphone jacks and pencil tips being stuck or shoved inside the headphone port of numerous student Chromebooks.
If the headphone port is damaged, a new motherboard must be installed for the port to work again. The cost of a new motherboard is $200. If the screen is damaged or cracked, a replacement screen would cost $170.
Please take a moment to review proper Chromebook care with your student(s) especially when using their headphones and their general handling of their Chromebook throughout the day. This will help to cut down on any repair costs you might incur due to user damage.
Another note to parents or guardians: Please do NOT attempt to remove any foreign objects that may become stuck in the headphone port. Please have your student bring their Chromebook to the building's Technology Specialist for repair. The repair may result in a charge after the object has been removed from the port and the damage can be assessed.
We have attached the repair sheet link to this letter for further information on Chromebook repair costs.
The above information will be reviewed with your student(s) by classroom teachers, but we thank you for your attention and assistance with this issue as well!

First Grade Chicks
It's been an exciting week in Miss Nutley's first grade classroom!!! As part of her science curriculum, students have been watching the development and changes in the eggs which have been warming in incubators. The chicks hatched this week!!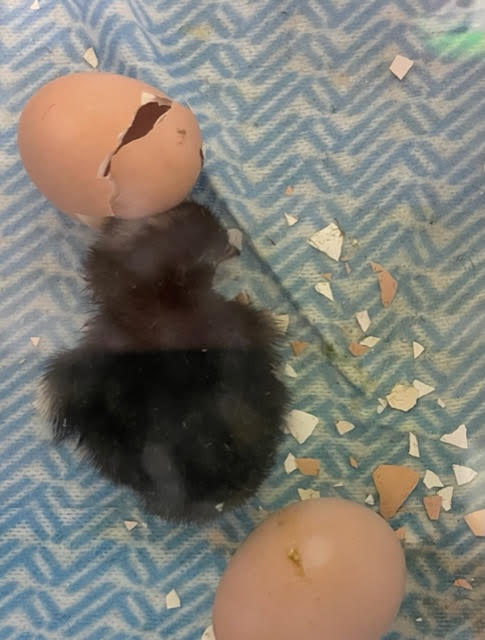 1st Semi-Annual CP Recycling Event!

Congress Park's Green Team is excited to announce our recycling event.
There are many items that we can recycle at school that we cannot recycle at home through a program called Terracycle. These recycling programs also help raise money for our school!
Please see the following for what we will be collecting. We will be collecting specific brands of toys/games, any pots/pans, plastic and glass food storage containers and school supplies pictured.
We will only be collecting these items on these dates:
Tuesday , May 24th from 3:15-5 and Friday, June 3rd from 3:15-4:15
Look for information in our next newsletter about the other recycling programs that are continuously run at Congress Park.
If you have any questions, please contact Colleen Korzen at korzenco@sd102.net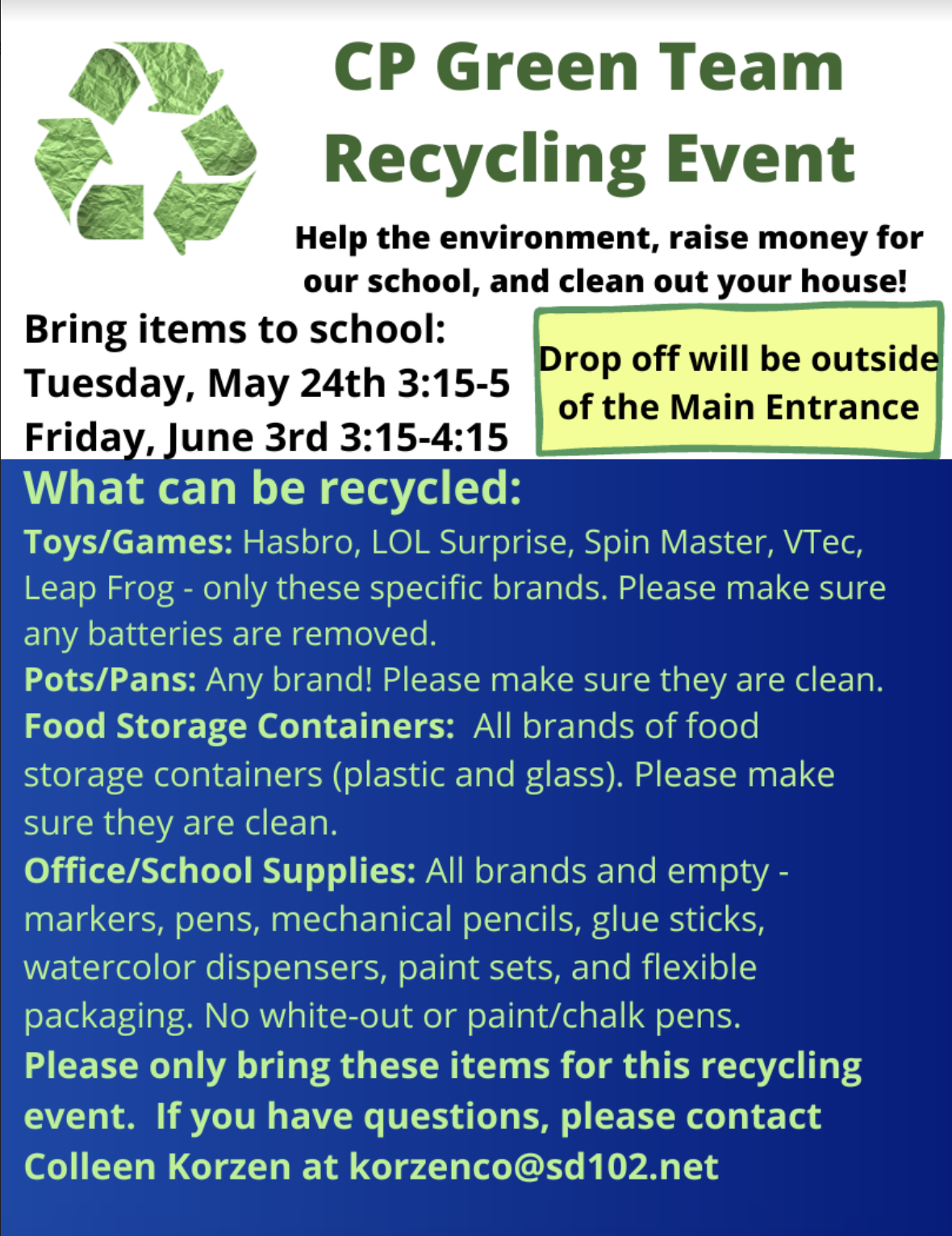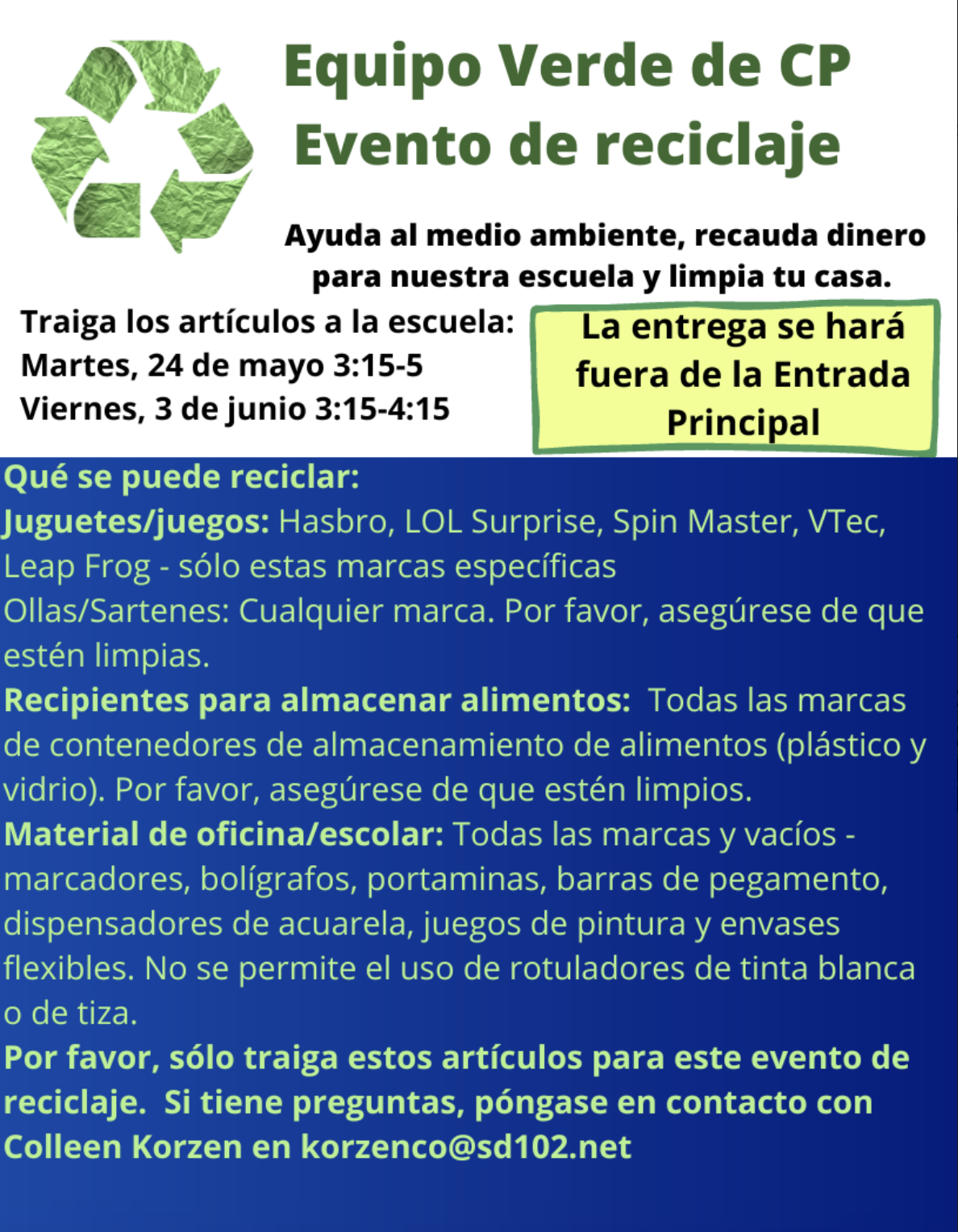 Nettie J. McKinnon Spring Art Show
The McKinnon Gallery Spring Art Show is returning this year. It is a great opportunity to celebrate student art and to open the Nettie J. McKinnon art gallery to the public. The McKinnon Art gallery is truly a special space with some spectacular works of art by famous American artists. All are welcome to enjoy the amazing works of art!
(*Students that have artwork in the show have been notified.)
Saturday May 21st from 11 AM to 3 PM.
Park Junior High
330 North Park Road Entrance #4
LaGrange Park, IL, 60526, US
Please contact me with any questions!
Mrs. Holdman

Online Registration for 2022-23 School Year
You must register your children online for the 2022-23 school year through your Parent Portal. Registration has been extended until May 15.
If you have questions, click HERE to visit the Registration page on the District website or email registration@dist102.k12.il.us
If your family has moved, is moving, or you are not planning to return to Congress Park next school year, please email the office at cp-office@dist102.k12.il.us.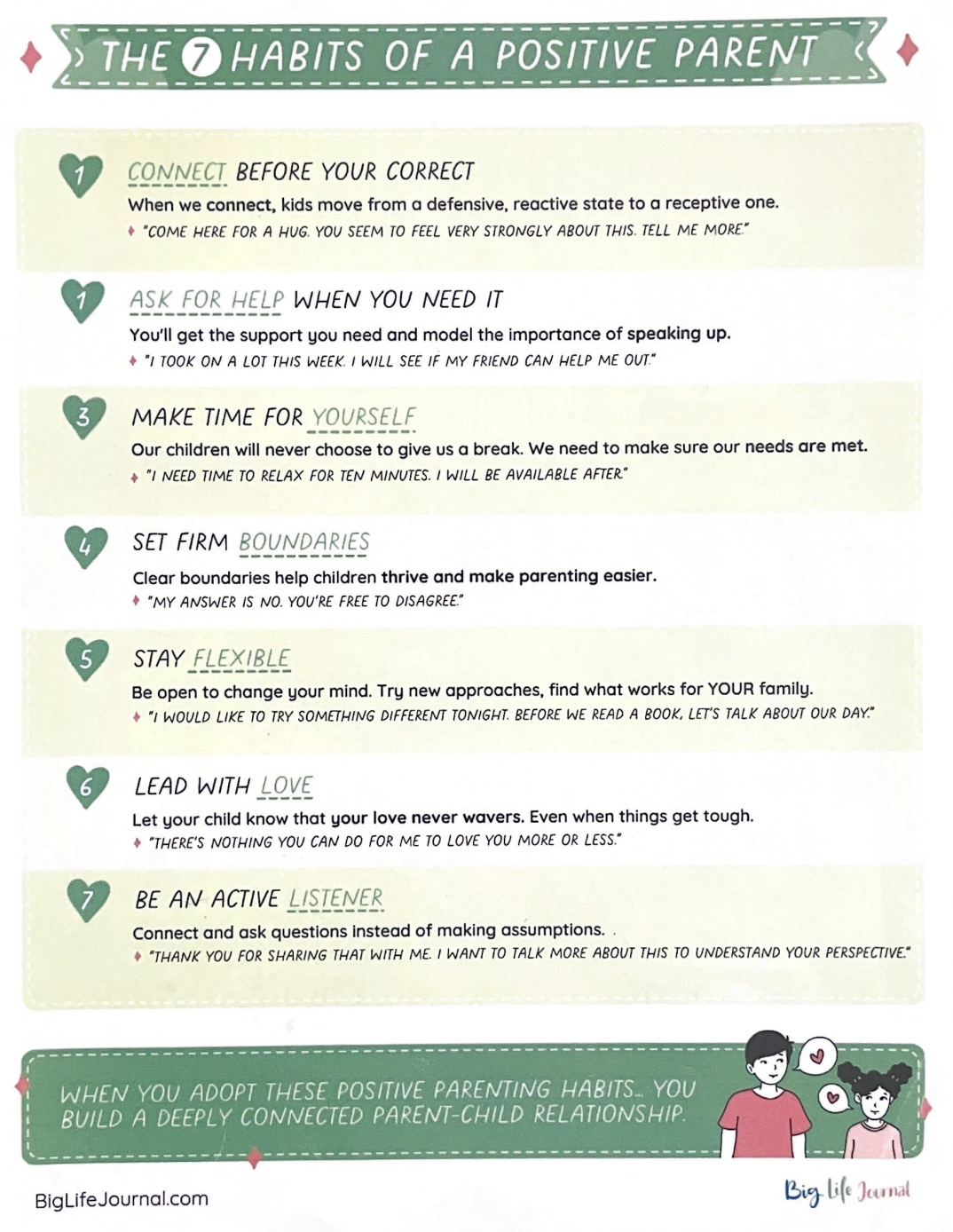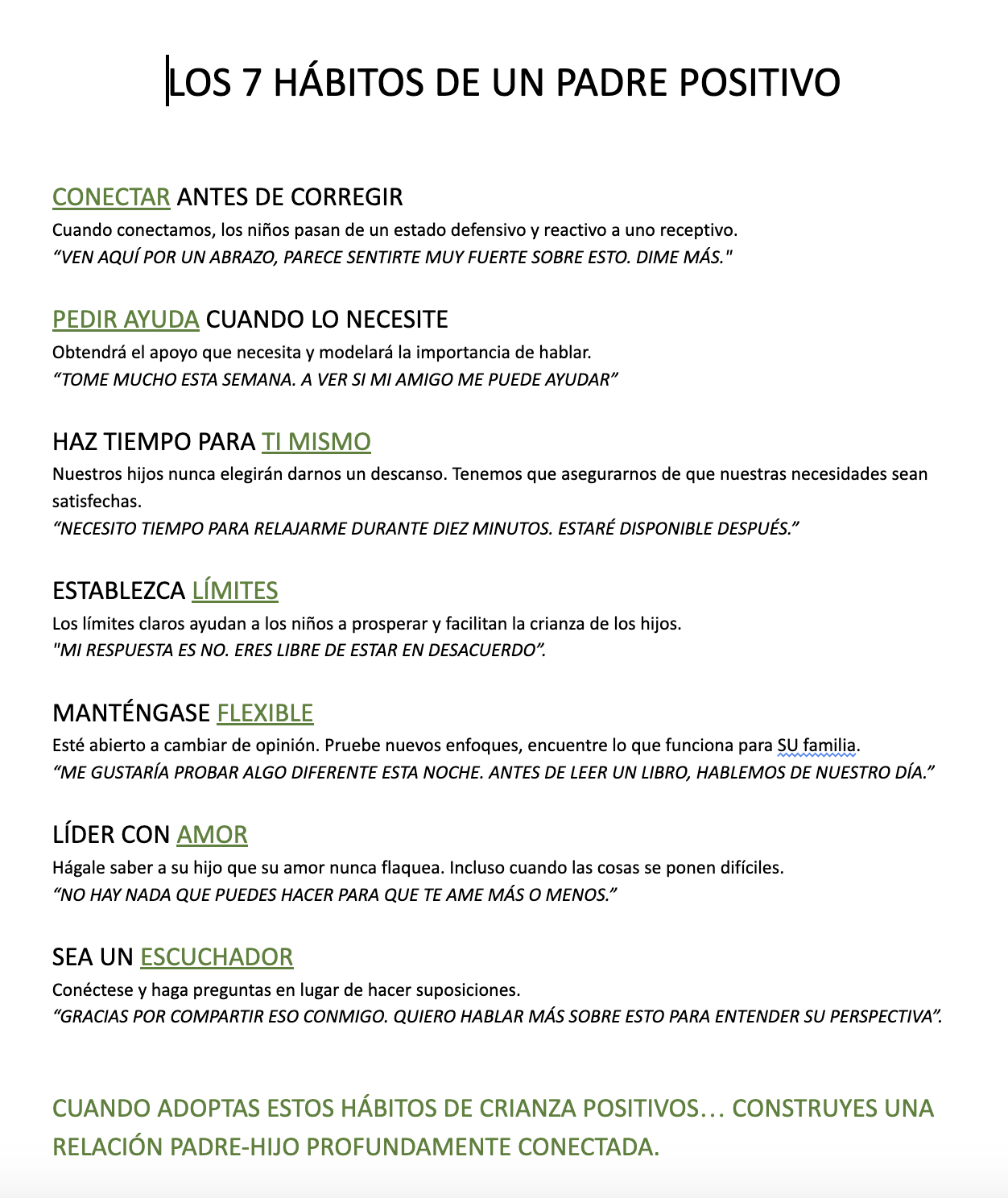 CP Policy Updates
Please remind your students of our policies
Hat Policy: No hats or hoodies worn in school during the day. (no hoods up, some students are hiding earbuds)
Cell Phone Policy: Turned off and in their bags, not allowed to be on at all during school hours. Should not be seen at all during the day.
1st offense - ask them to put it away
2nd offense - take and put on teacher's desk until end of the day
3rd offense - it goes to the office and parent needs to come and pick it up.
Homework Help
Check out the opportunity for some extra support!
https://drive.google.com/file/d/1OR0tJM0wSTvrVmgnmAhnMgMjIPxMkuNi/view?usp=sharing
SNAP CHAT (Special Needs Advisory Panel CHAT for PARENTS and CAREGIVERS)
The Special Education Department administrators, Terry Sofianos Wohlgenant and Traci Milledge, are hosting an online parent support group from 7 pm to 8:30 pm on select Tuesday nights. This group is open to ALL parents in the district who would like to meet with other parents for camaraderie and support as we make our way through this unique school year.
Dates: 5/25
We hope you can join in! Here is the Zoom link.
https://us04web.zoom.us/j/71908283671?pwd=MEJzTElCL1FBSWhpUkxpT0xGYU9pdz09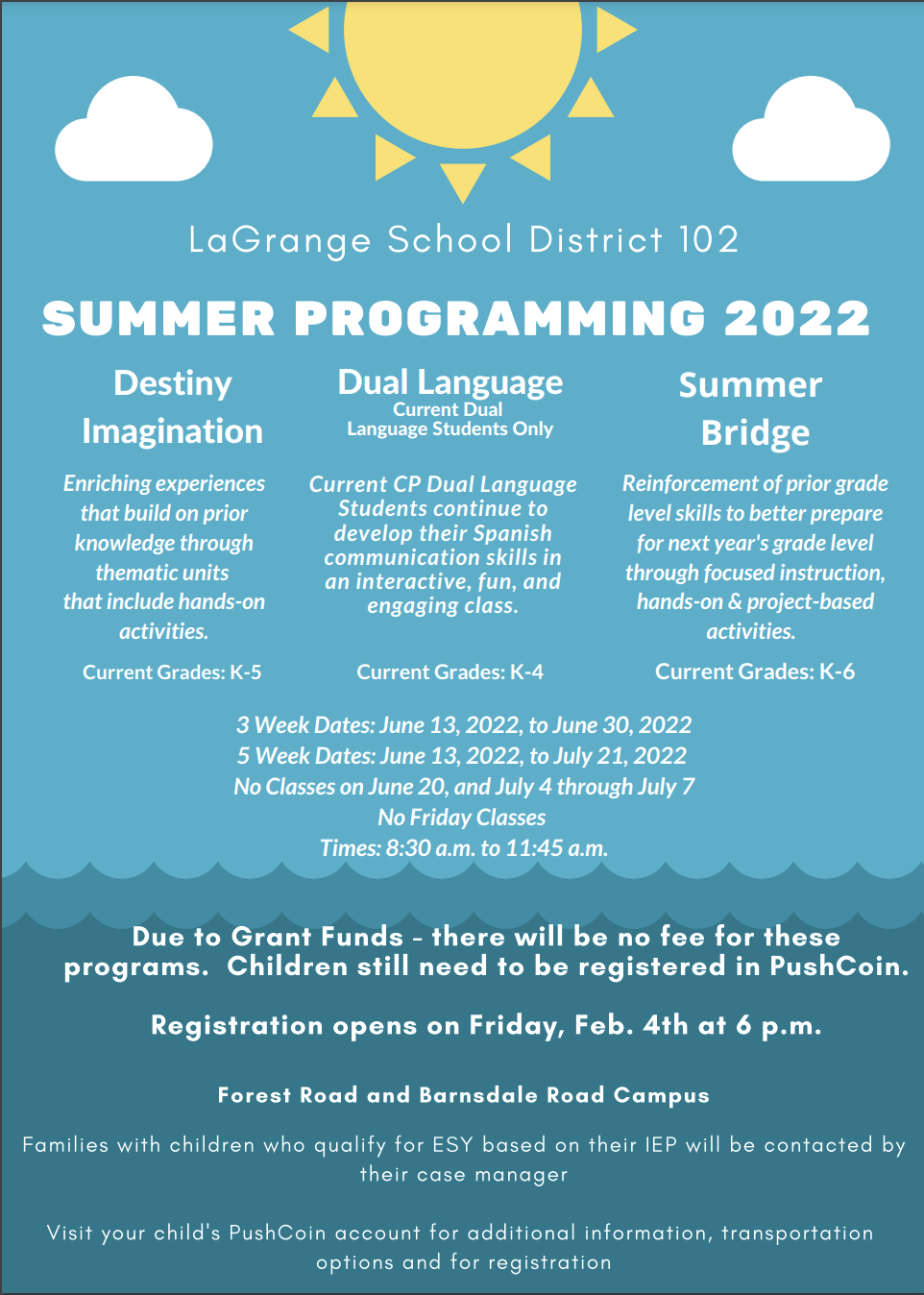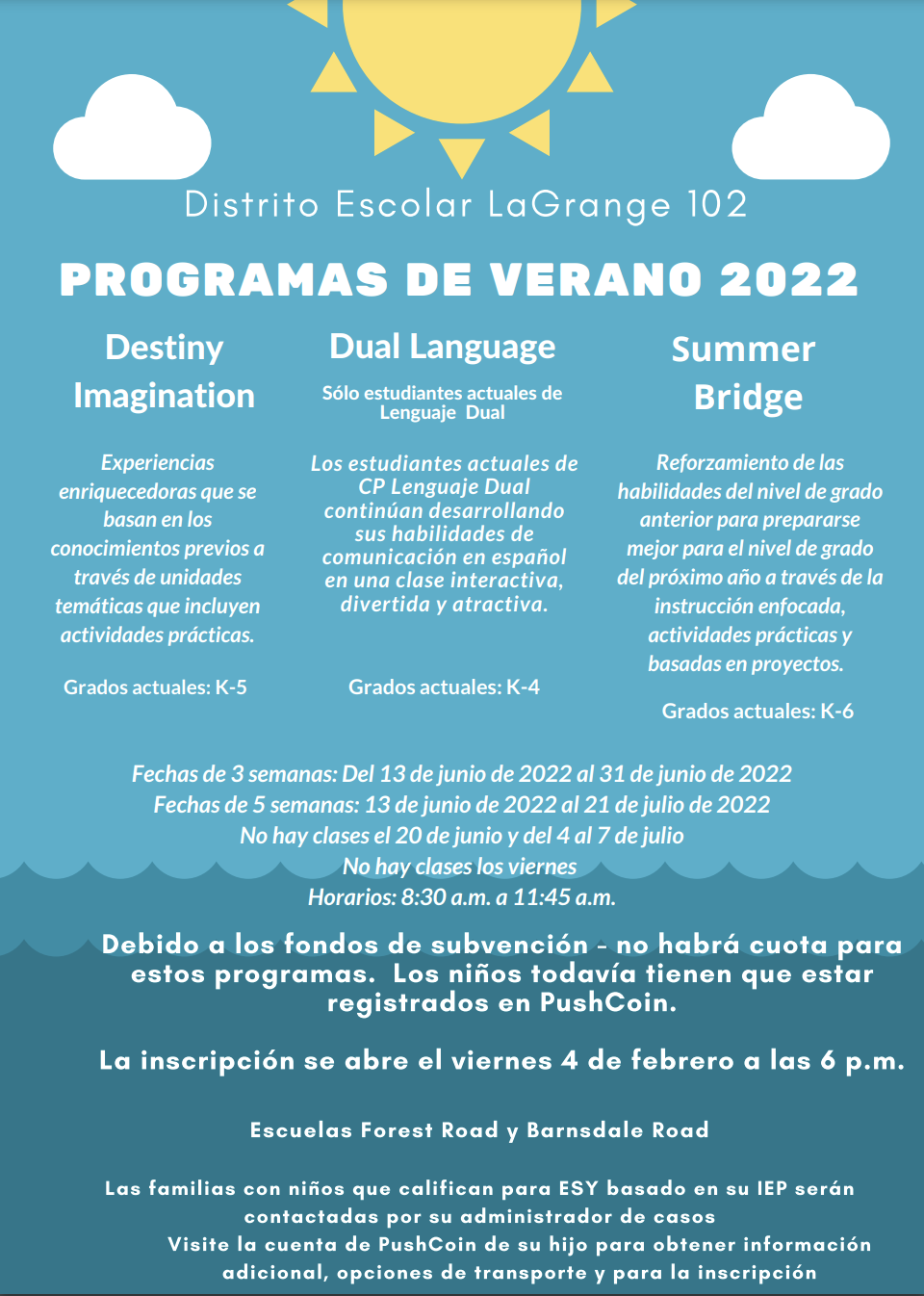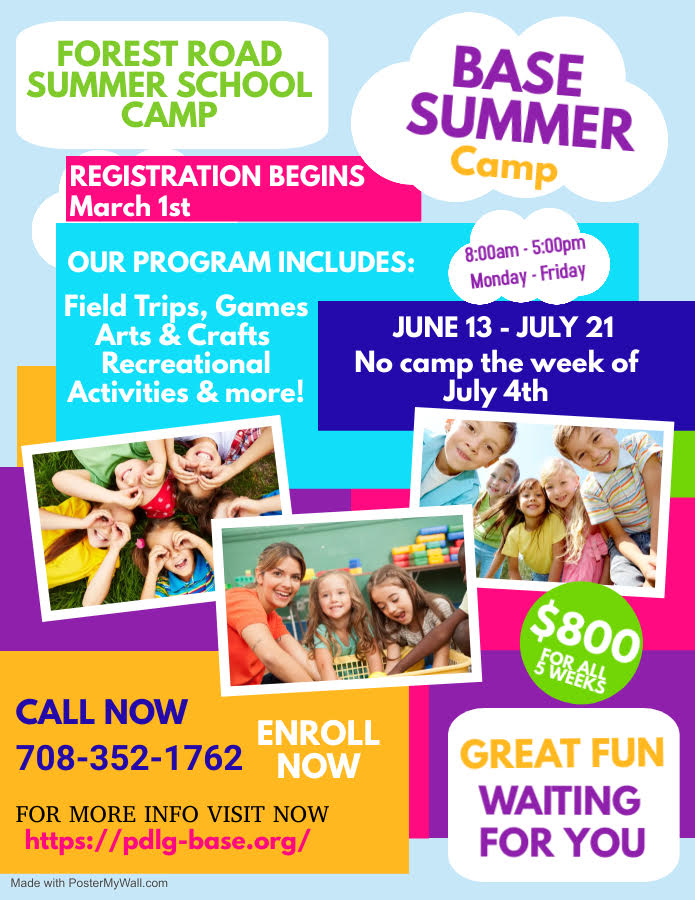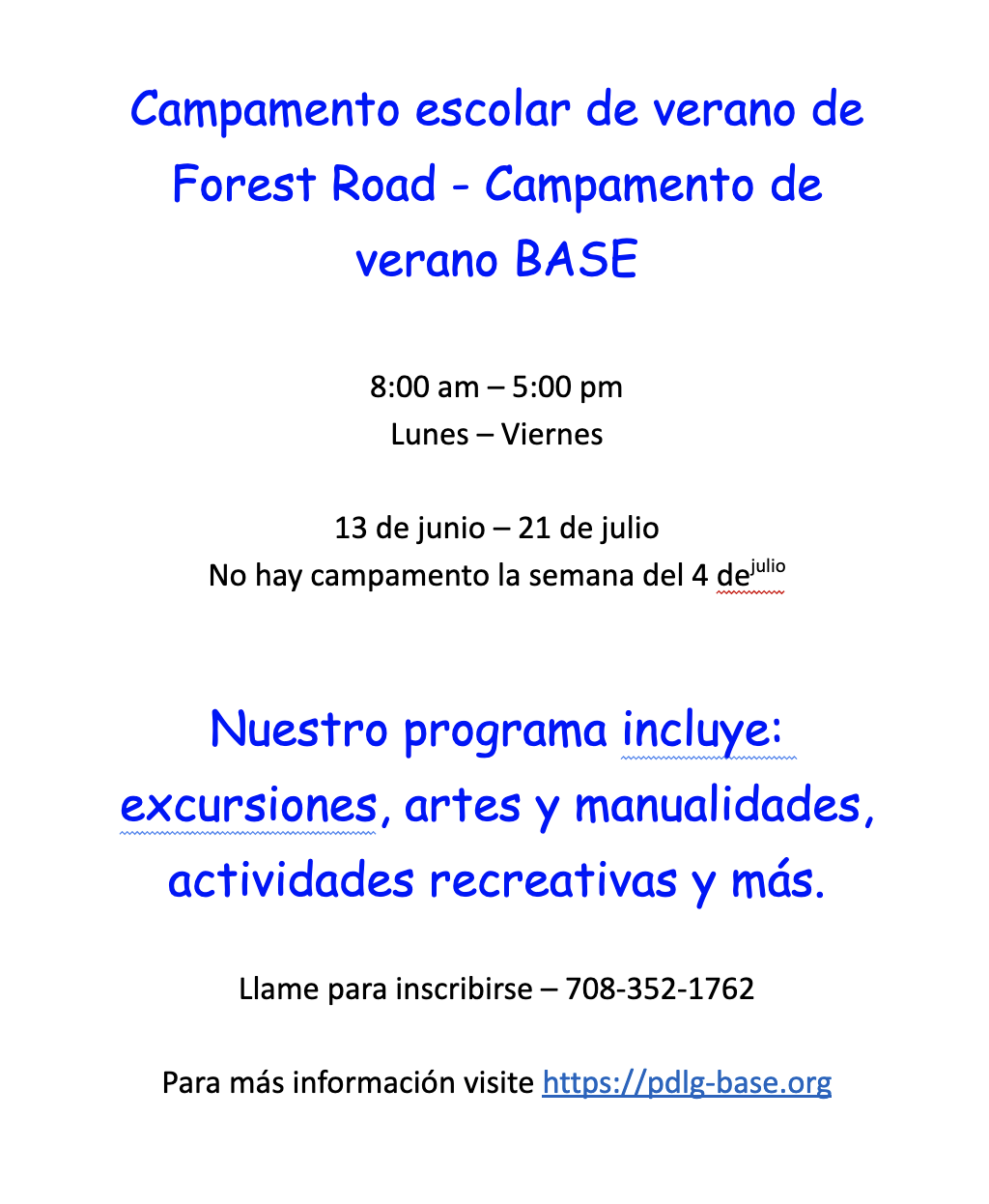 5/13 - PTO Parent Night Out - Joe's Saloon

5/16 - 6th Grade Tours of Park Jr. High

5/19 - BOE Meeting

5/20 - Student Council Bowling Field Trip

5/24 - Green Team Recycling Event

5/26 - End of Year Band/Orchestra Celebration

5/30 - Memorial Day - No School

6/3 - Green Team Recycling Event
6/3 - End of Semester 2

6/6 - 6th Grade Lincoln Park Zoo Field Trip

6/6 - Nora Movie Night

6/7 - Field Day

6/8 - Last Day of School - 11:20 Dismissal

6/9 - Last Day for Teachers
Please note: there will be no Memorial Day Program or Awards Assembly this year.