Hello CP families!
Happy Friday!
We are in the final days of the 2021-2022 school year. The students and staff have done a wonderful job all year and everybody is looking forward to the well deserved time off. Please make sure that your students are coming to school ready to learn for the final few days of school. Next week we have field day on Tuesday, June 7th, to allow the students to have some fun during the final few days of school.
We will be having our 6th grade clap out on Wednesday, June 8th. This will begin at 11:00 and should end around 11:05. Parents are welcome to be outside in the parking lot by door #9 to give the 6th graders a congratulatory cheer as they exit Congress Park for the last time as students. Once they are outside, that will conclude their day so you are able to leave a few minutes early. The 6th grade teachers have sent out information regarding the end of the year breakfast and zoo field trip, as well as the clap out.
Please speak with your children about all of the possible negative effects of social media and the posting of other people on the internet. We need to be a team to help our students know how to navigate this ever changing social media world. We will do everything that we can at school, but we need the support from home as well. Please check your child's social media accounts to make sure that they are not seeing or posting things that are inappropriate. We need to remember that the students are still young children and need guidance and support.
It has been a great school year. Thank you for your continued support of the students and staff. I appreciate all that you do for the school and the community. If I do not get a chance to see you before school is out, have a safe, fun-filled summer break!!!

Thank Your From the Magnabosco Family
We are so incredibly touched and thankful to all teachers, administrators, school staff, students and families who have contributed to the kind fundraising effort for St. Jude's Children Hospital honoring my husband, and our Dad, Peter T. Magnabosco. His love for District 102's students, teachers, families, staff and administrators, and St. Jude's, lives on with this generous tribute. We know he would so appreciate this wonderful gesture in his memory.
--Thank you again from the bottom of our hearts--Gail, Jennifer and Peter J. Magnabosco
All students, regardless of the grade, received a printed list of all the books checked out under their names. Any books that students are finished with, we would like returned as soon as possible but your child may keep any books that they are still reading.

Please ask your child about their library books and begin to help your child look for their library books at home. If you are unsure of the title(s) your child has checked out please click here for a video on how to check your child's Destiny Discover account or contact Mrs. Spatzek (spatzekka@dist102.k12.il.us) with the following format:

Homeroom Teacher

Child's FIRST and LAST Name

The replacement cost of any materials not returned by the end of the day on Friday, June 3rd will be declared lost entered into PushCoin. As always, if a book is found after it has been entered into PushCoin, we can credit your account.

Summer Reading:

A sneak peek of summer reading opportunities can be found on our LRC Canvas course under our new (large) button labeled Summer Reading. More opportunities and links will be added as they are received. There are some amazing events both in person and online sponsored by our local libraries! I know I cannot wait to participate in many of the summer events and programs with my own children. Best of all, all of the events are always FREE!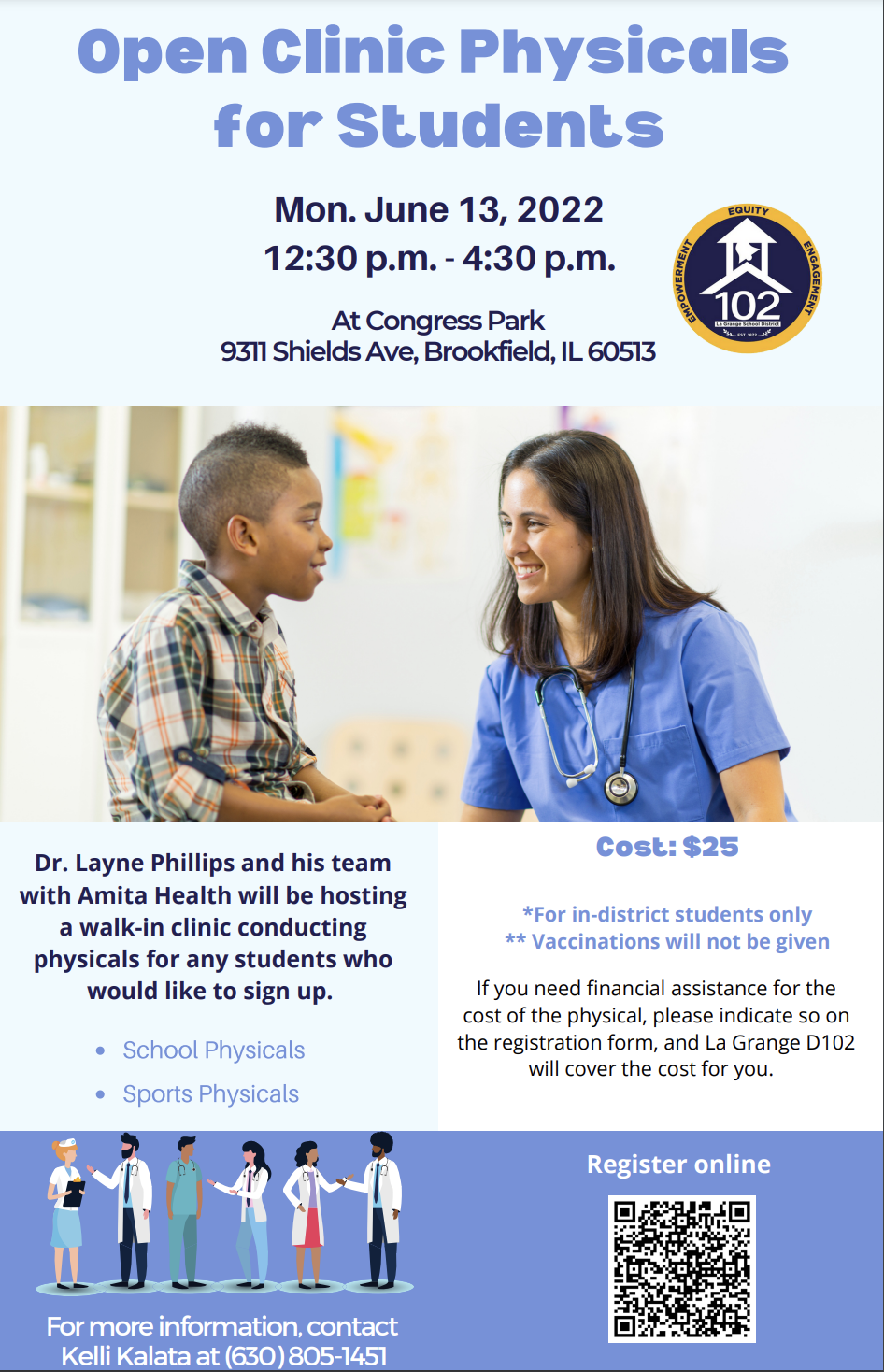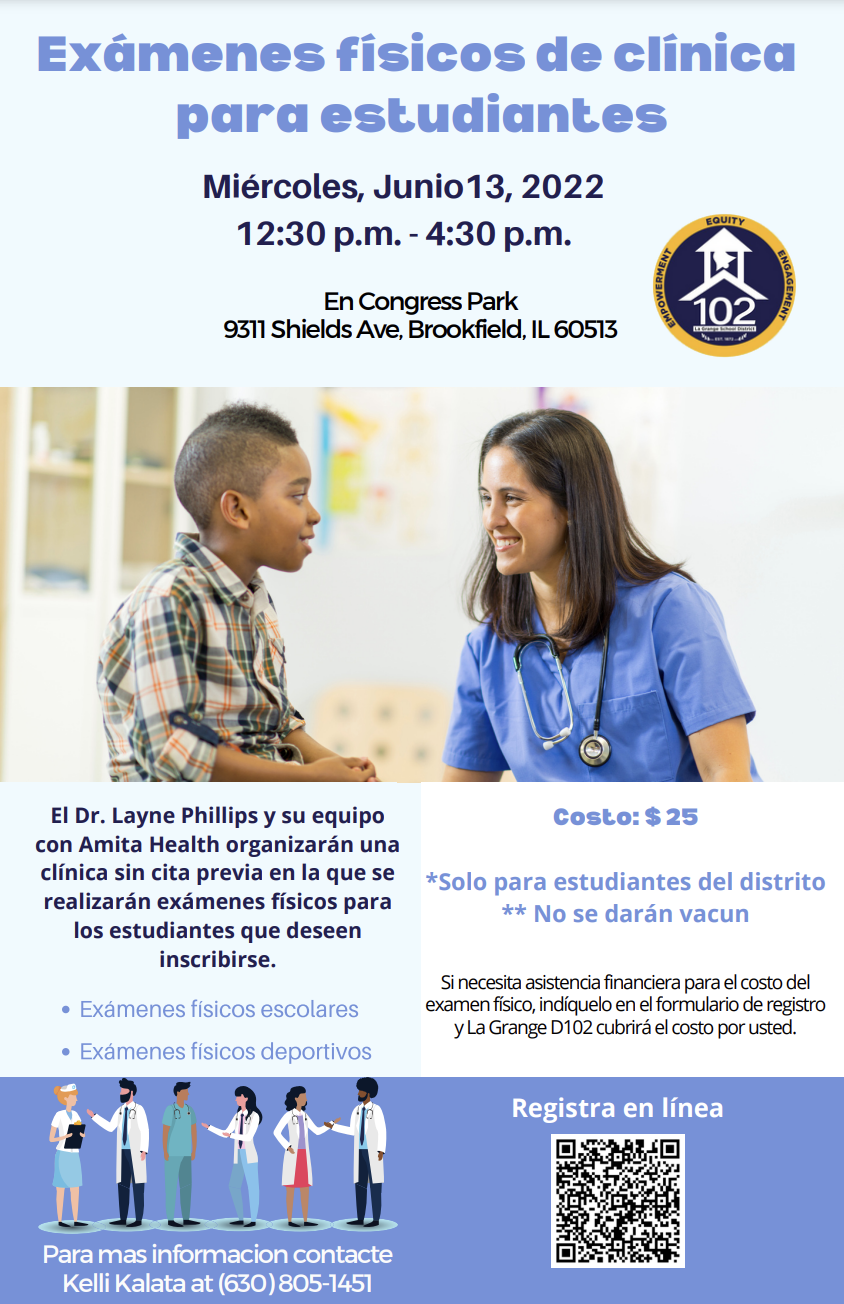 CP Recycling Event!
Congress Park's Green Team is excited to announce our recycling event TODAY.
There are many items that we can recycle at school that we cannot recycle at home through a program called Terracycle. These recycling programs also help raise money for our school!
Please see the following for what we will be collecting. We will be collecting specific brands of toys/games, any pots/pans, plastic and glass food storage containers and school supplies pictured.
If you have any questions, please contact Colleen Korzen at korzenco@sd102.net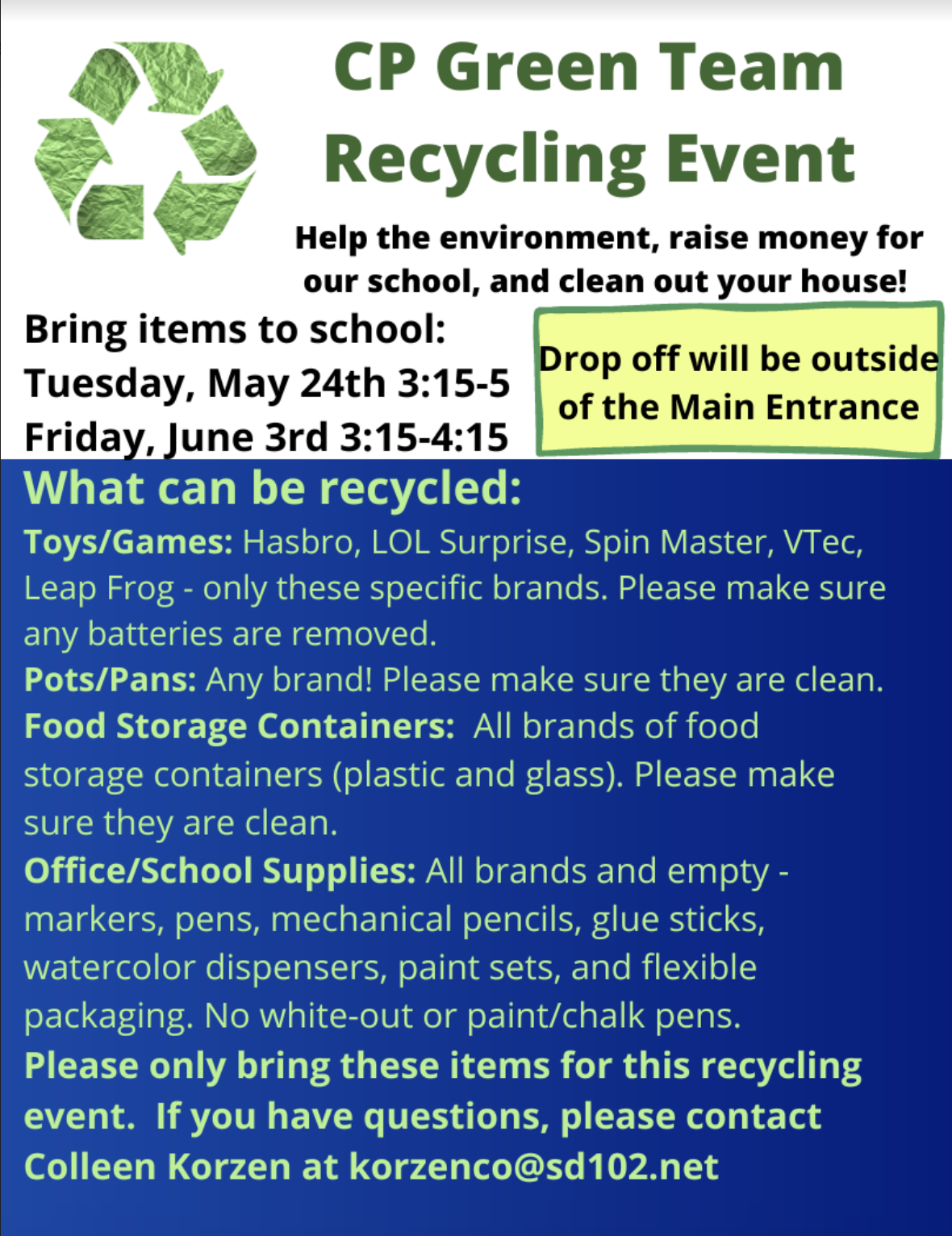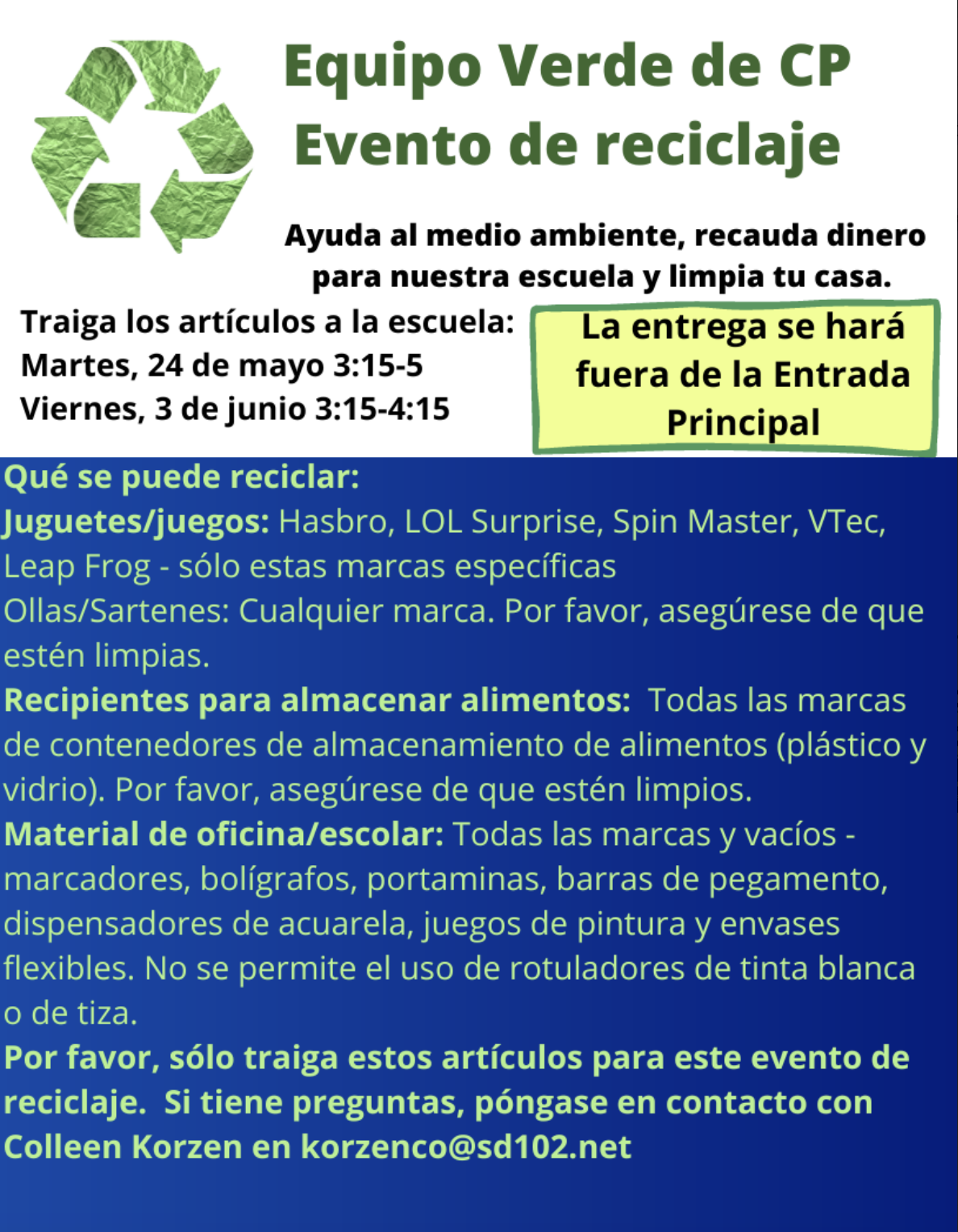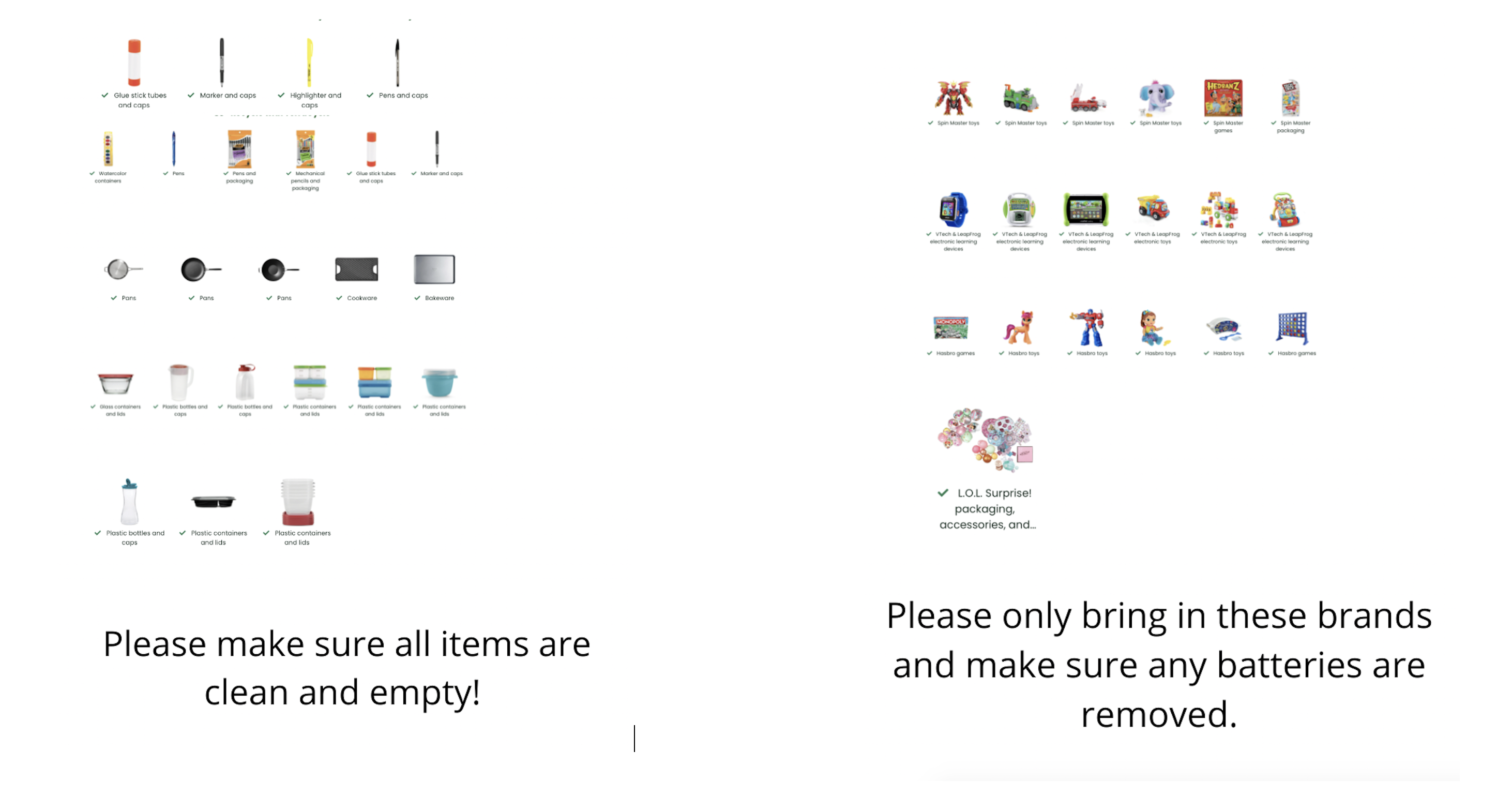 Notice to Parents Regarding Chromebook Care
Dear Parent or Guardian,
This letter is a reminder regarding Chromebook care. We have noticed an increase in cracked screens, along with broken headphone jacks and pencil tips being stuck or shoved inside the headphone port of numerous student Chromebooks.
If the headphone port is damaged, a new motherboard must be installed for the port to work again. The cost of a new motherboard is $200. If the screen is damaged or cracked, a replacement screen would cost $170.
Please take a moment to review proper Chromebook care with your student(s) especially when using their headphones and their general handling of their Chromebook throughout the day. This will help to cut down on any repair costs you might incur due to user damage.
Another note to parents or guardians: Please do NOT attempt to remove any foreign objects that may become stuck in the headphone port. Please have your student bring their Chromebook to the building's Technology Specialist for repair. The repair may result in a charge after the object has been removed from the port and the damage can be assessed.
We have attached the repair sheet link to this letter for further information on Chromebook repair costs.
The above information will be reviewed with your student(s) by classroom teachers, but we thank you for your attention and assistance with this issue as well!

6/3 - Green Team Recycling Event

6/3 - End of Semester 2

6/6 - 6th Grade Lincoln Park Zoo Field Trip

6/6 - Nora Movie Night
6/7 - Field Day

6/8 - Last Day of School - 11:20 Dismissal

6/9 - Last Day for Teachers
Please note: there will be no Memorial Day Program or Awards Assembly this year.

PTO Chair Positions Open for 2022-23
The 2021-2022 school year is almost done but the fun could be just beginning for those who want to join the Congress Park PTO in planning for a fun filled 2022-2023 school year!!! We have a couple of additional chair roles that YOU could be perfect for. Please consider joining in on the fun!!
https://www.signupgenius.com/go/10C0D4DA9AA22A0FA7-volunteer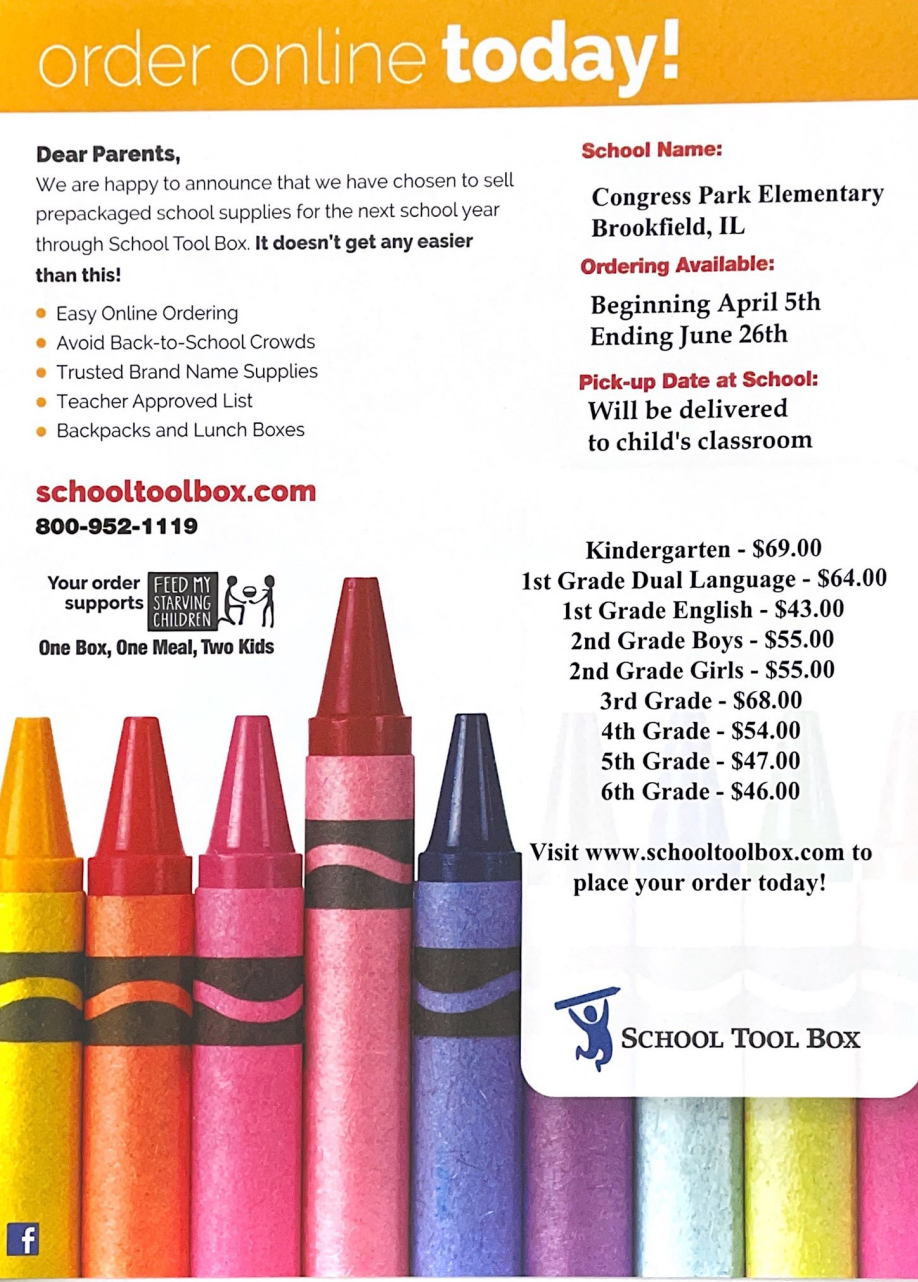 The Monthly Gatherings and 8 Week Session are no charge to the families who attend. A registration form does need to be completed to attend programming offered by Buddy's Place. The form can be found HERE or by visiting the Pillars Community Health website.
Buddy's Place offers a monthly family support group that meets on the 2nd Monday of every month*. All groups meet from 6:15pm - 7:30pm. The dates for the upcoming Monthly Gatherings are:
Monday, June 13

Monday, July 11 (Annual Picnic)

Monday, August 8

Monday, September 12

Monday, October 17* (third Monday)

Monday, November 14

Monday, December 19
The 8 Week Session is a family-based bereavement support group that provides support and grief education. It meets for 8 consecutive Tuesday evenings from 6:15pm - 7:30pm. The next 8 Week Session will begin in September 2022.
There is no cost to participate in Buddy's Place however registration is required.
Additional information on Buddy's Place can be found at on the Buddy's Place webpage and grief resources can be found on our Padlet and Pinterest board.
Bereavement/Grief Camp Listings
A listing of grief support and bereavement camps, provided by our partners in the community can also be found by clicking here.
Please feel free to post or share with those that may be interested in our programs. Families should call Michelle Halm at 708.995.3751 or send an email to buddysplace@pchcares.org
Michelle Halm, M.A., M.Ed., CT - Director of Buddy's Place, a program of Pillars Community Health
708.995.3751 - mhalm@pchcares.org
Website: Buddy's Place, a program of Pillars Community Health