Dear Congress Park Community,
It has been a wonderful week here at CP. In classrooms, students and teachers are laughing, moving, discussing, asking questions, and taking ownership of their learning. During lunch and recess, students are getting to know each other, working together to keep our spaces clean, and playing a lot of kickball and basketball!
Important Information
Curriculum Night: Our CP teachers are looking forward to meeting you next week. Our Kindergarten - 3rd Grade Curriculum Night will be held on Tuesday, September 20th. Our 4th - 6th Grade Curriculum Night will be held on Thursday, September 22nd. Each teacher will hold two presentation sessions. The first session will begin at 6:00 p.m. and the second session will begin at 6:45 p.m. Please choose the time that works best for you and your family.
Attendance: If your child will be absent from school, please contact cpattendance@dist102.k12.il.us. This is a quick and easy way to communicate with the health office about your child's absence.
Regular school day (Mon, Tues, Thurs, Fri)
8:15 a.m. Enter Bell
8:20 a.m - Classes Begin
11:20 a.m. - Lunch Dismissal
12:15 p.m. - Classes Begin
3:15 p.m. - Dismissal
Wednesdays
8:15 a.m. Enter Bell
8:20 a.m - Classes Begin
10:55 a.m. - Lunch Dismissal
11:55 a.m. - Classes Begin
2:30 p.m. - Dismissal
Amy Grieve
Congress Park Principal

CP Folkloric Dance Classes
Folkloric Dance classes will be starting in November. Please check the next CP Newsletters for more information on when registration will open.
CPCFRO
CPCFRO is an athletics program within District 102 that introduces volleyball and basketball to 5th and 6th graders. In the Fall 2022, boys will be playing volleyball and girls will be playing basketball. In the Winter 2023, boys will be playing basketball and girls will be playing volleyball. Games will begin by the first week in October. The goal of the program is to introduce the basic skills of each sport, get the children excited about playing, and allow for the inclusion of all kids in our district. All the teams within CPCFRO are coached by parent volunteers, and the games are refereed by IHSA referees. While we keep score during the game, we do not keep track of wins/losses... the focus is strictly instructional and for the kids to HAVE FUN!! Each team will play 7-8 games and receive a team shirt. The cost to participate is $35/player.
To register your child, click on the link below! Registration closes on September 19. This registration is for Fall 2022 only!

SHIELD Testing
District 102 is once again offering SHIELD testing for those who consent. You can find the sign up for SHIELD testing on the front page of the district website - www.dist102.k12.il.us. Testing began this week.
Congress Park Parent Calendar
Congress Park activities can be found on the District website, or parents can subscribe to our Parent Google Calendar. Follow the link to subscribe. Congress Park Parent Google Calendar

9/16 - PTO Bean Bag Tourney - Imperial Oak Brewing - 6:00 p.m.

Week of 9/19 - Daytime Band/Orchestra lessons begin for beginning students

9/19 - Deadline for CPCFRO Registration - 5th and 6th graders only

9/20 - Curriculum Night - Grades K-3 - 6:00 - 7:15 p.m.

9/21 - 4th Grade Science Center - AM Hovey; PM Dembowski/Smith

9/22 - Curriculum Night - Grades 4-6 - 6:00 - 7:15 p.m.

9/22 - Board of Ed Meeting - 7:00 p.m.
9/27 - 4th Grade Science Center - AM Dembowski/Smith; PM Hovey

9/28 - BPAC Meeting - 6:30 p.m.

9/29 - Special Services Curriculum Night - 6:00 - 7:00 p.m.

10/3 - 4th Grade Science Center - AM Hovey; PM Dembowksi/Smith

10/6 - 3rd Grade Science Center - AM Carbray; PM Reyes/Rojek
10/7 - Institute Day - No School

10/10 - Indigenous People's Day - No School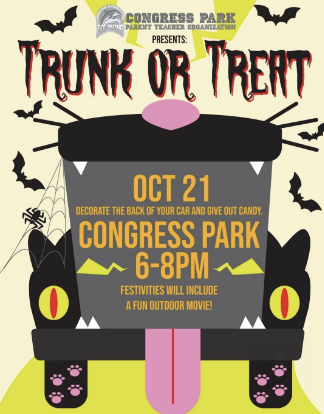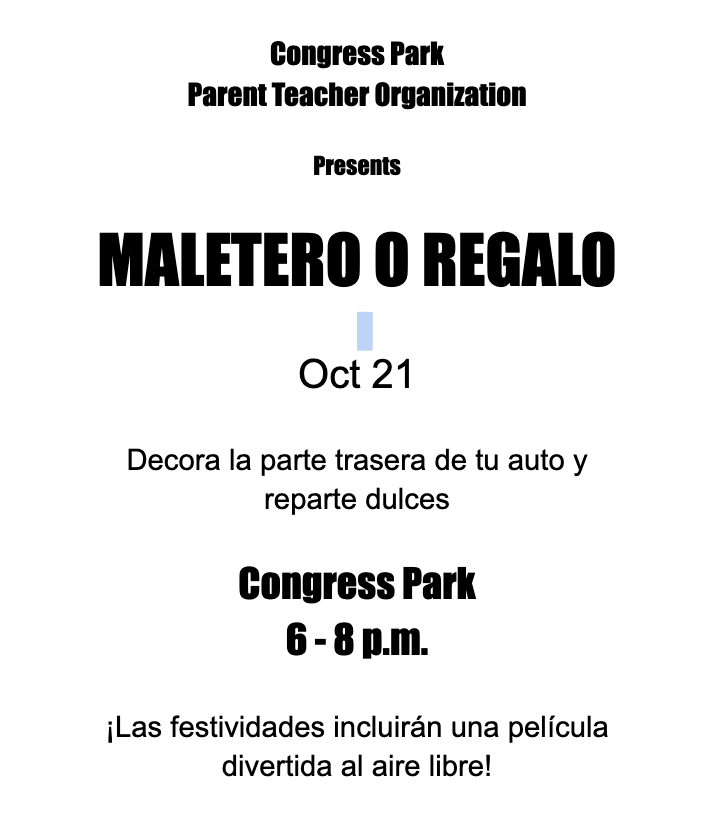 Please join us to decorate the trunks of our vehicles in Halloween-themed decor and pass out candy or other goodies to the children in our community. Please save the date for October 21st from 6 to 8 p.m. - followed by a movie. More details about this event will be coming soon.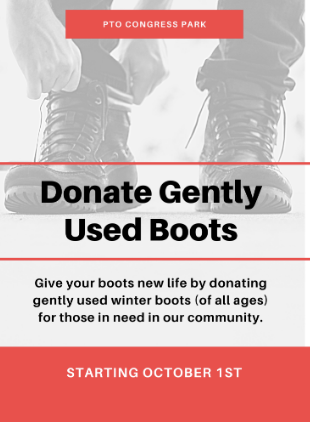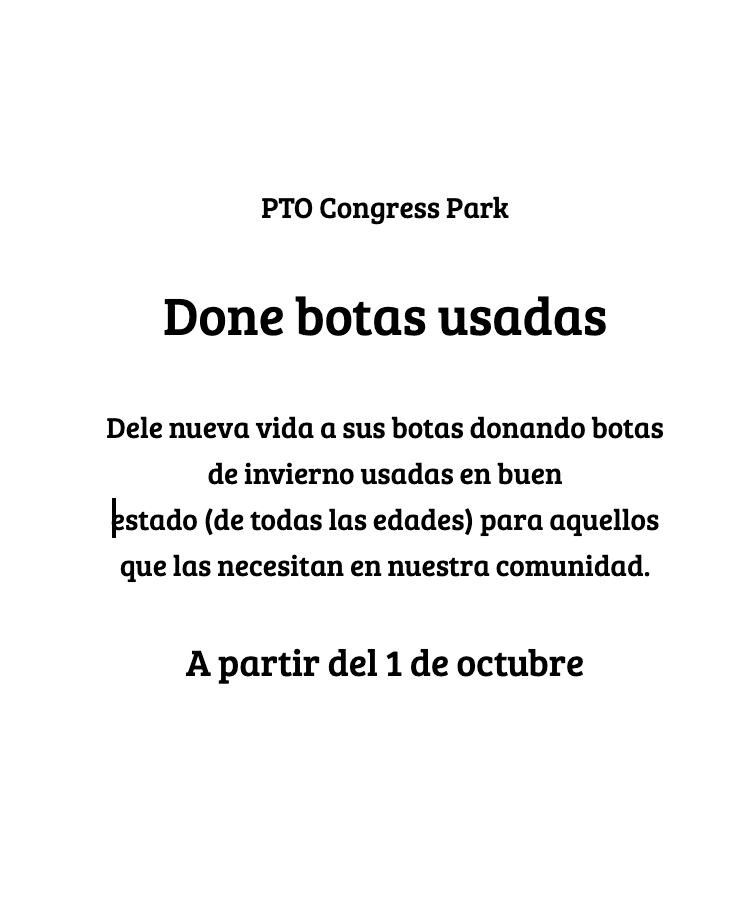 We are looking to collect gently used winter boots starting October 1st! As you are moving things around and making room for new winter stuff, please consider sharing boots you no longer need with the community. Boxes will be located in the school vestibule on October 1 - thanks in advance!!

Girl Scout Costume Collection for Buddy's Place
The Girl Scout troops are collecting gently used costumes for the upcoming 5th Annual Name Your Price Costume Sale for Buddy's Place. The collection box will be in the school foyer through September 30. 100% of proceeds benefit Buddy's Place. Buddy's Place is Pillars Community Health's childhood grief program, offering family-based support groups for grieving children, teens and their families.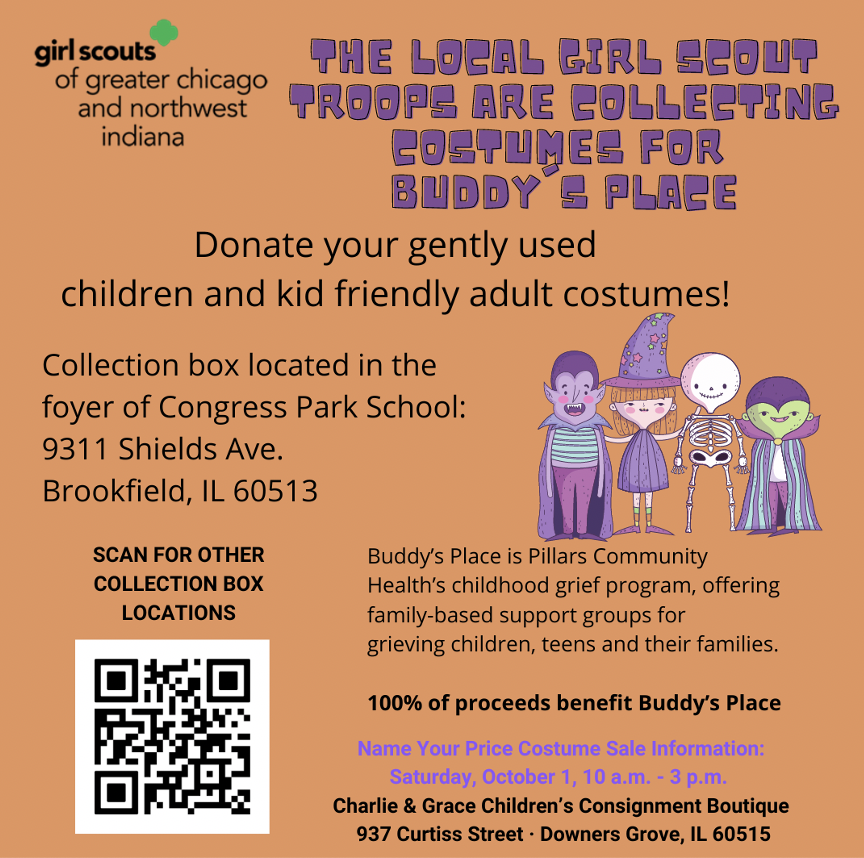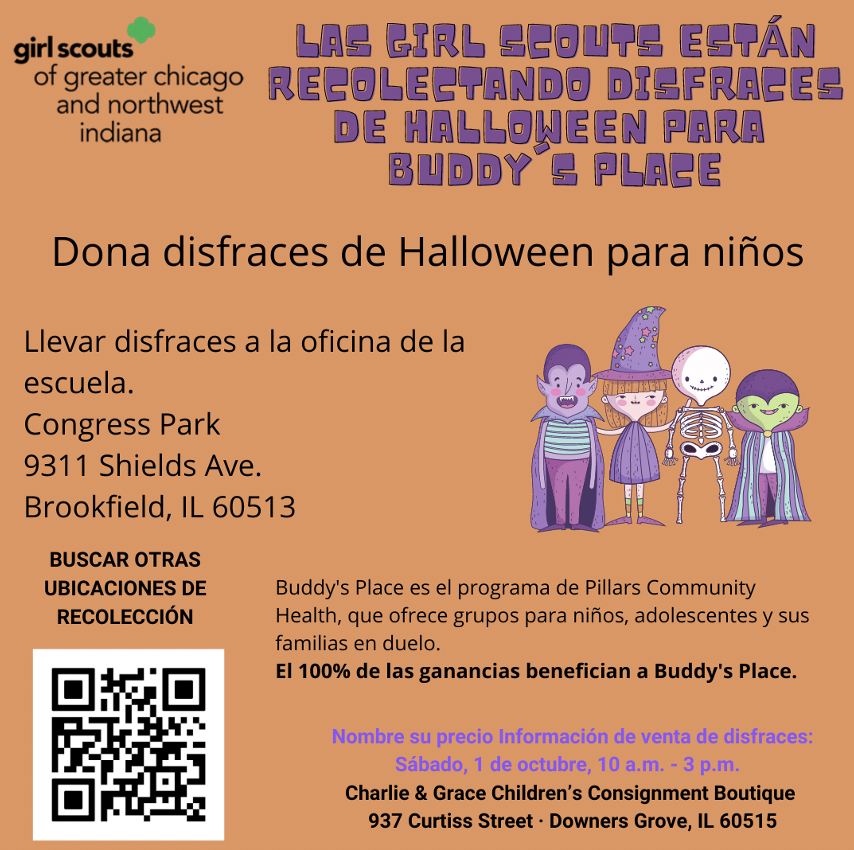 Costume Sale with Proceeds Benefitting Buddy's Place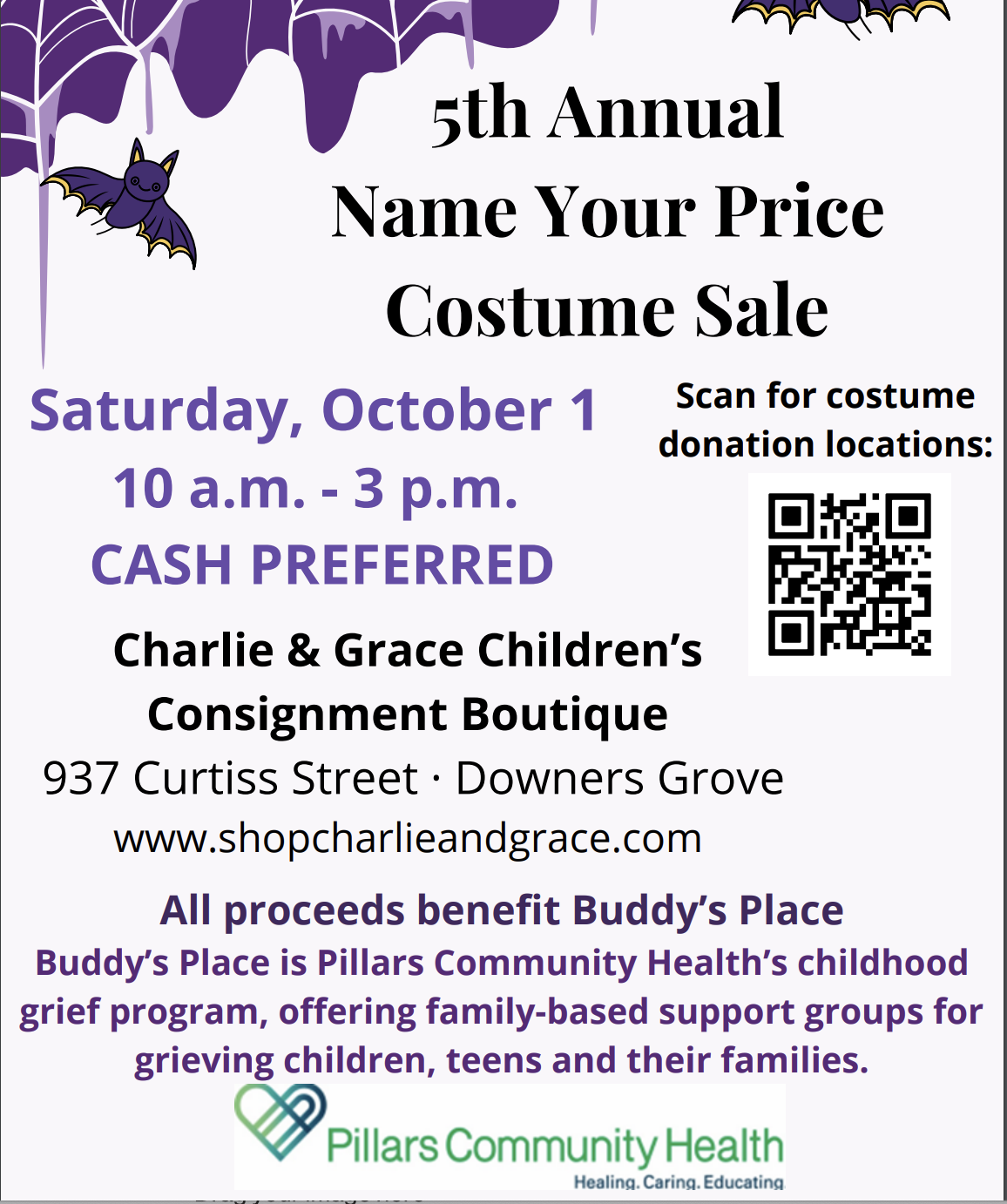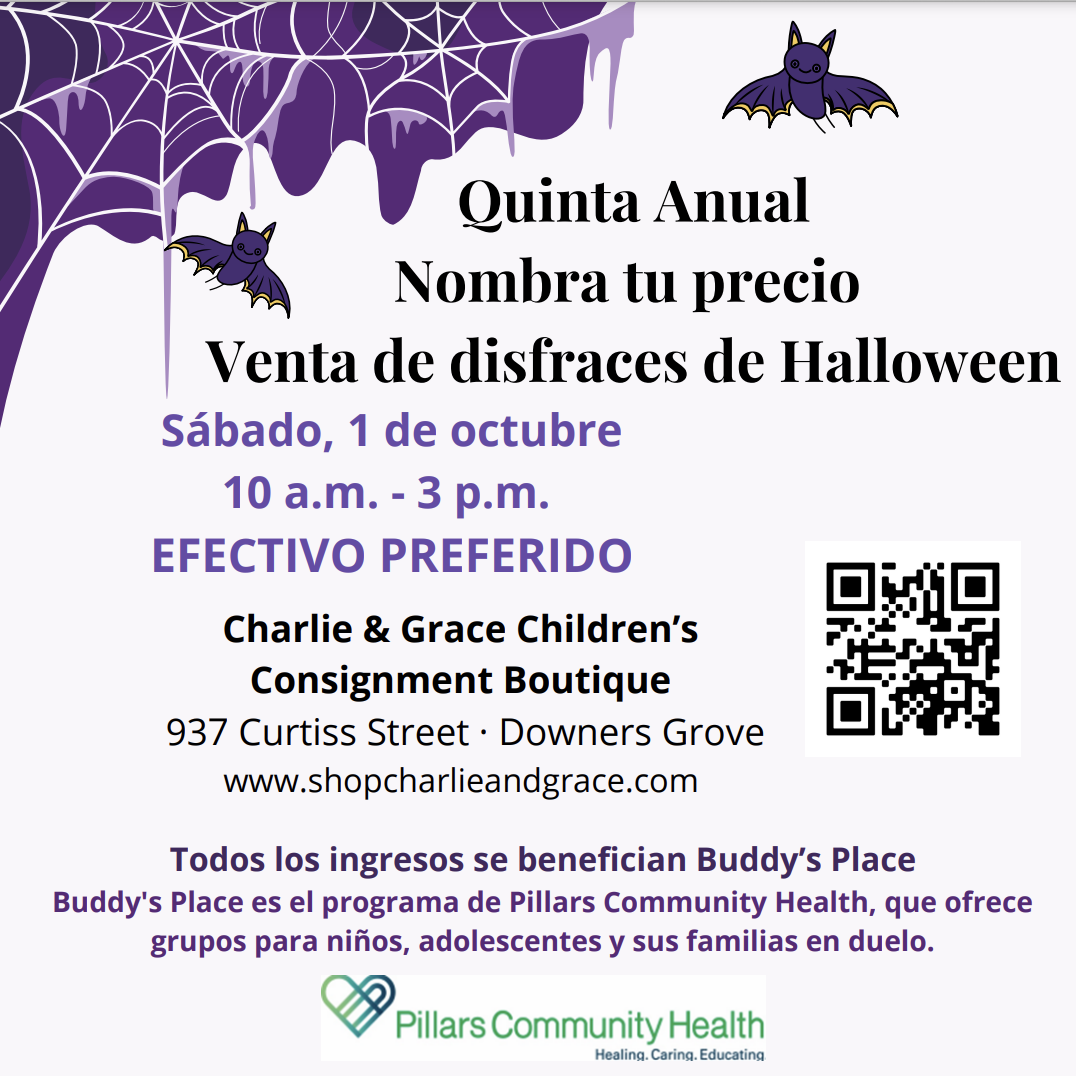 Since 2000, Pillars Community Health's Buddy's Place childhood bereavement program has offered family-based support groups to children and teens ages 4-18 and their families who are grieving the death of someone significant in their lives. We are committed to providing a safe, accepting, and supportive environment where each family can come and express their grief and connect with others in a group setting. There is no charge to attend the programs offered by Buddy's Place.
Fall 8 Week Session - Registration is Open
Buddy's Place offers an 8-week support group. While children and teens engage in goal-oriented activities that are age-appropriate, parents and caregivers participate in a group focused on understanding children's grief and how to better support the children. This program is free of charge to participants.
The 2022 Fall 8 Week Session will begin on September 13th and conclude on November 1st, 2022. We will be meeting in Riverside, IL from 6:15-7:30 pm.
Monthly Gatherings
The Buddy's Place Monthly Gathering meets on the second Monday of each month (*except October) to work together on a creative, grief-related project. Note: You do not have to attend the 8-Week Session to attend Monthly Gatherings. The Fall 2022 Monthly Gatherings will be held in Western Springs from 6:15 pm - 7:30 pm. This program is free of charge to participants.
Upcoming Monthly Gatherings
Monday, October 17*
Monday, November 14
Monday, December 12
Families can register for the Buddy's Place program (8 Week Session and/or Monthly Gatherings) by submitting the program registration form.
The form can be found by clicking HERE.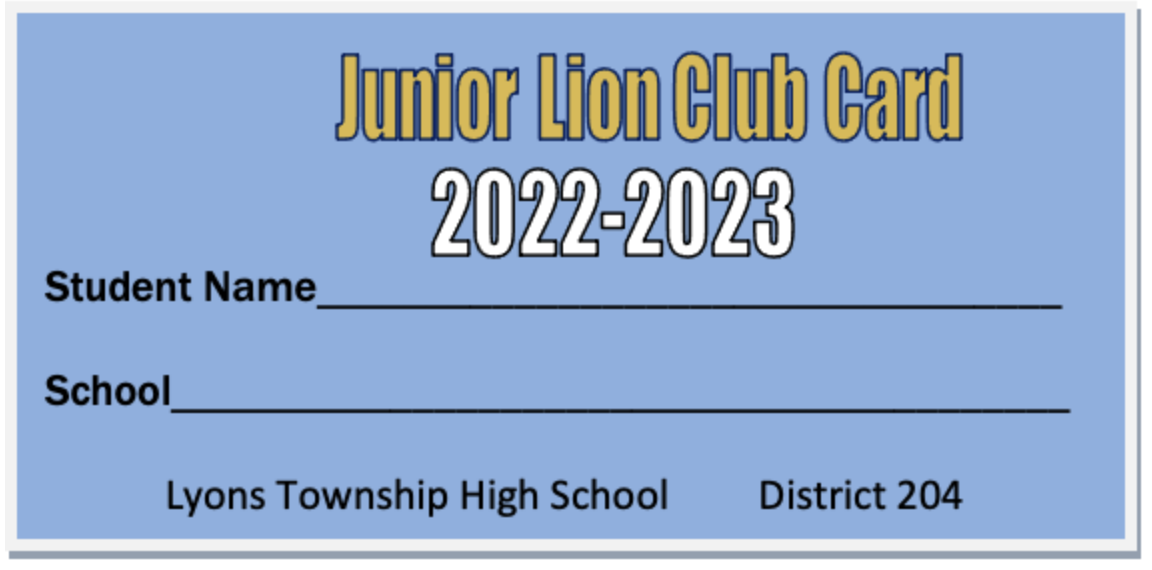 Lyons Township High School would like to once again provide Junior Lion Club cards for all students in Congress Park school. In lieu of printing thousands of cards, LT is going green. Attached is a flyer that will serve as a student's ticket of free admission to most LTHS athletic and school events. Any student wishing to attend an LT event can print the flyer, fill out and clip the 2022-2023 Junior Lion Club Card, and present it for free admission when accompanied by a parent or guardian. This flyer provides an opportunity to see most plays, musical performances or regular home athletic events at LT, and entitles one student and his/her parent or guardian to free admittance.
Also attached is a Fine Arts Calendar, specifically designed to detail this year's events, some conducted in conjunction with eighth graders.
Families can check the LT website at www.lths.net and click on the CALENDAR link for all sports, fine arts and activity schedules.
If you have any questions regarding the Junior Lion Club Program or the LT music events, please feel free to call the Office of Community Relations at 708-579-6483.