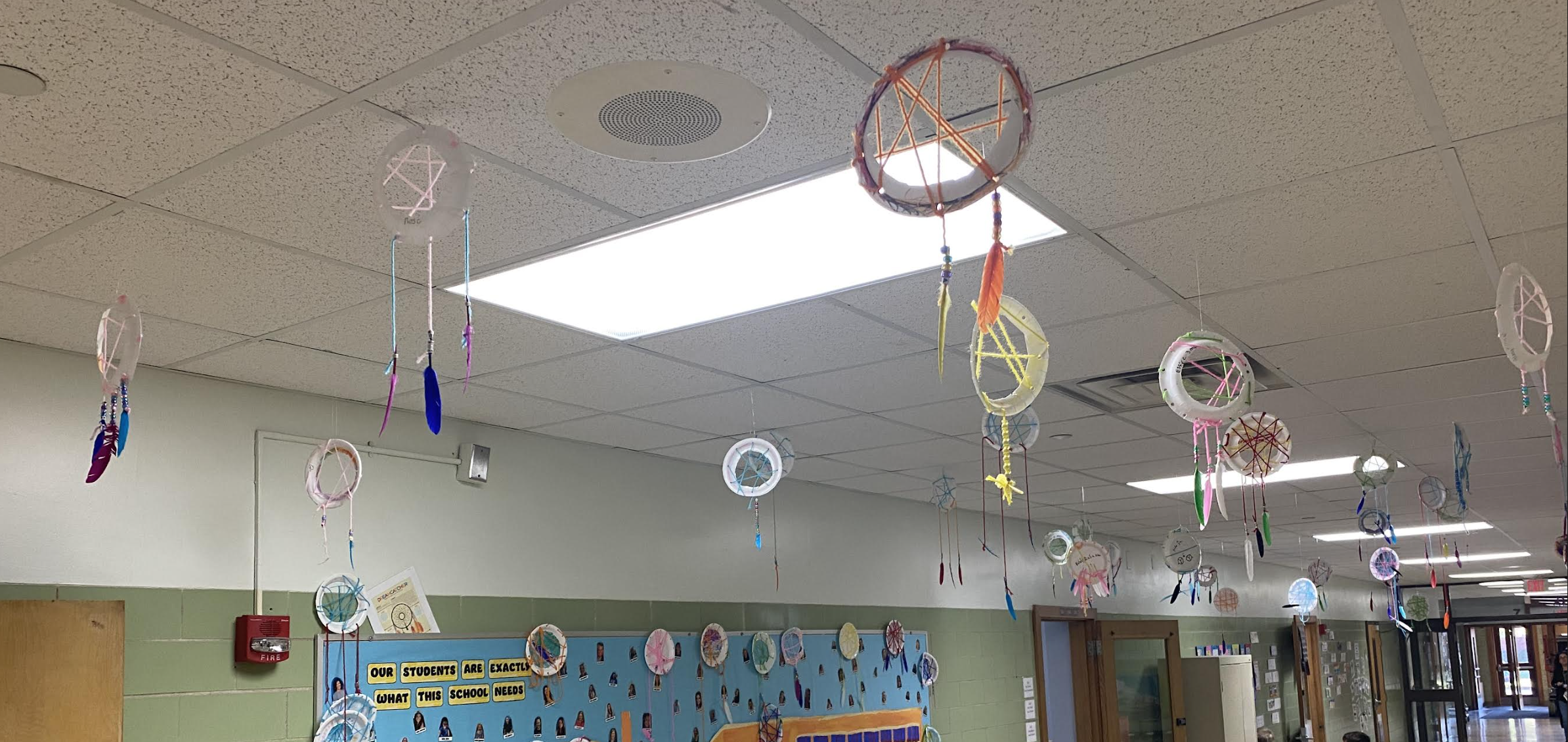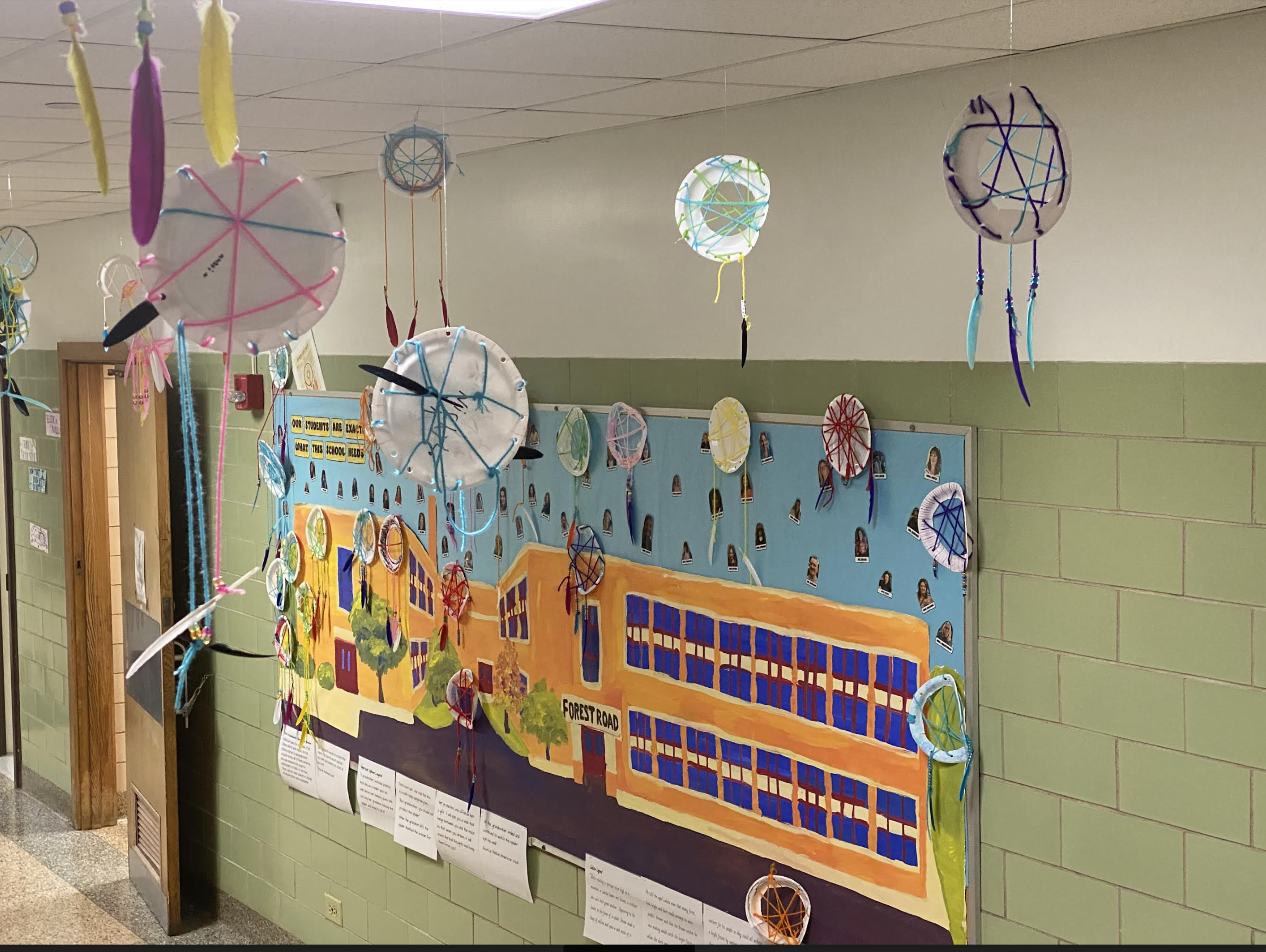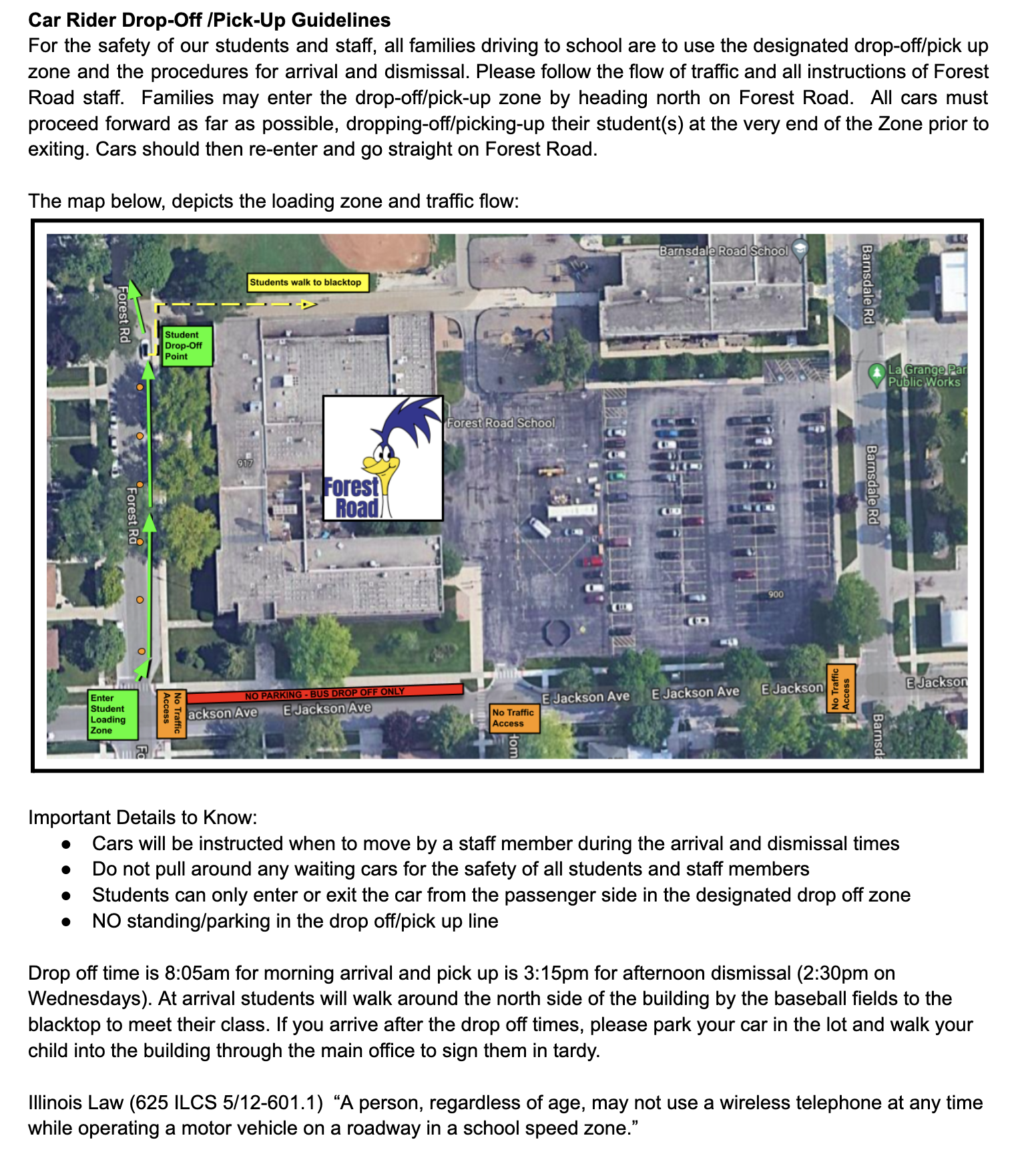 New bus route information was sent home to bus riding families. New routes/times became effective on Monday, October 3rd.
New bus routes/times: attached/linked document
Throughout the years we have witnessed many students not using their computer cases. Please remind your child(ren) to protect their devices by using their computer case. Parents are responsible for any damages to the computer, which are more likely to occur if students are not using cases.
If your child has lost their case, you are responsible for purchasing a replacement. If we happen to have extra here at school they are $20.00 otherwise you can purchase a new one for your child(ren) through a vendor of your choice.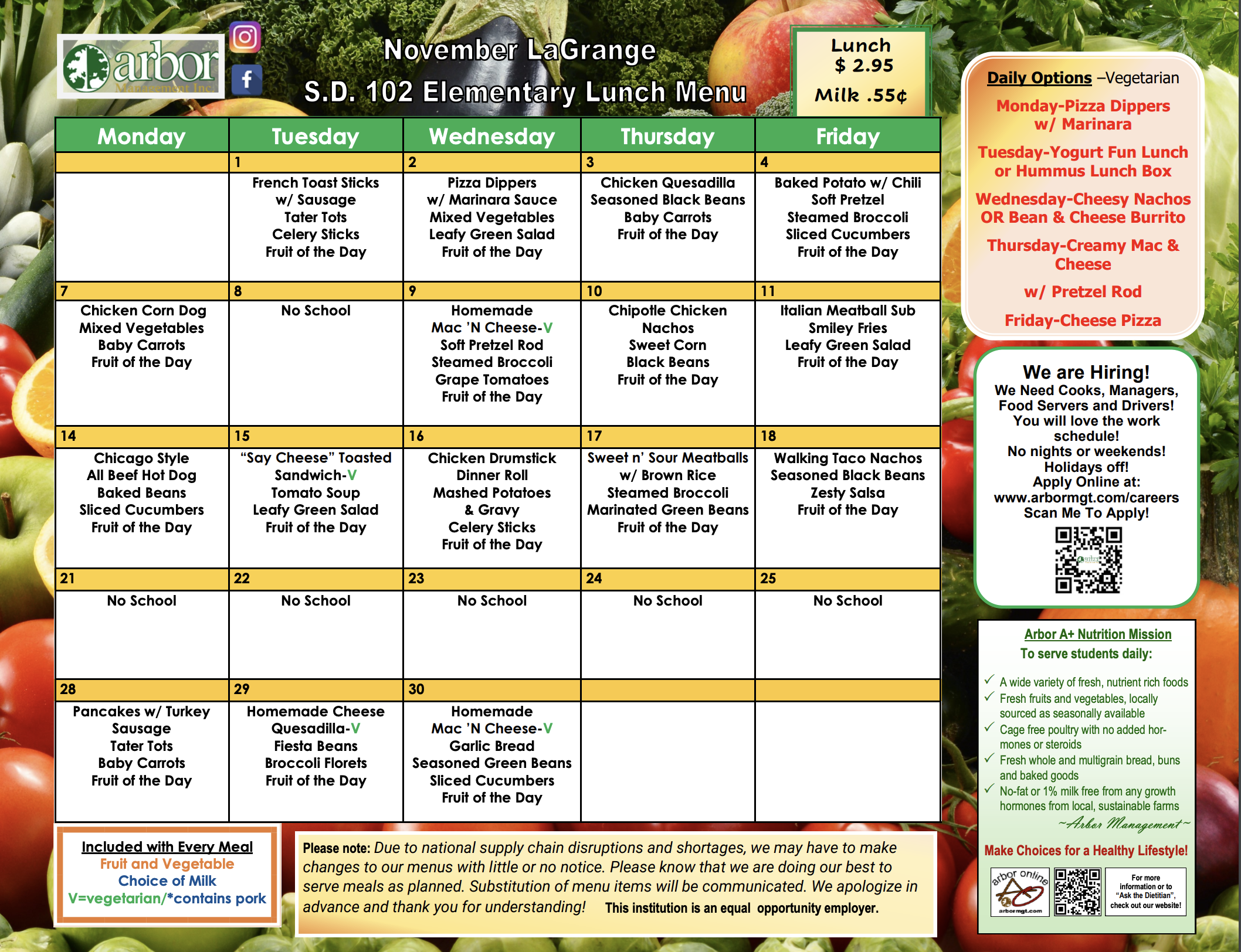 Before & After School Care Info.
Forest Road offers two different before and after school programs. Although they run independently from us, they are serviced here in our school. Below is the contact information for BASE and Right At School:
BASE: Leanna Hartung - Manager LeannaHartung@pdlg.org
Right At School: Chelsey Mazariegos - Area Manager chelsey.mazariegos@rightatschool.com
Right at School and BASE drop off security reminder:
Parents when you drop off your child off at Right at School or BASE and for some reason need to walk your child into the building, please then exit the building immediately after dropping off. Please do not take your child to the classroom or go to the classrooms on your own to drop off or pick anything up. I appreciate your attention to this.
Right At School Winter After School Electives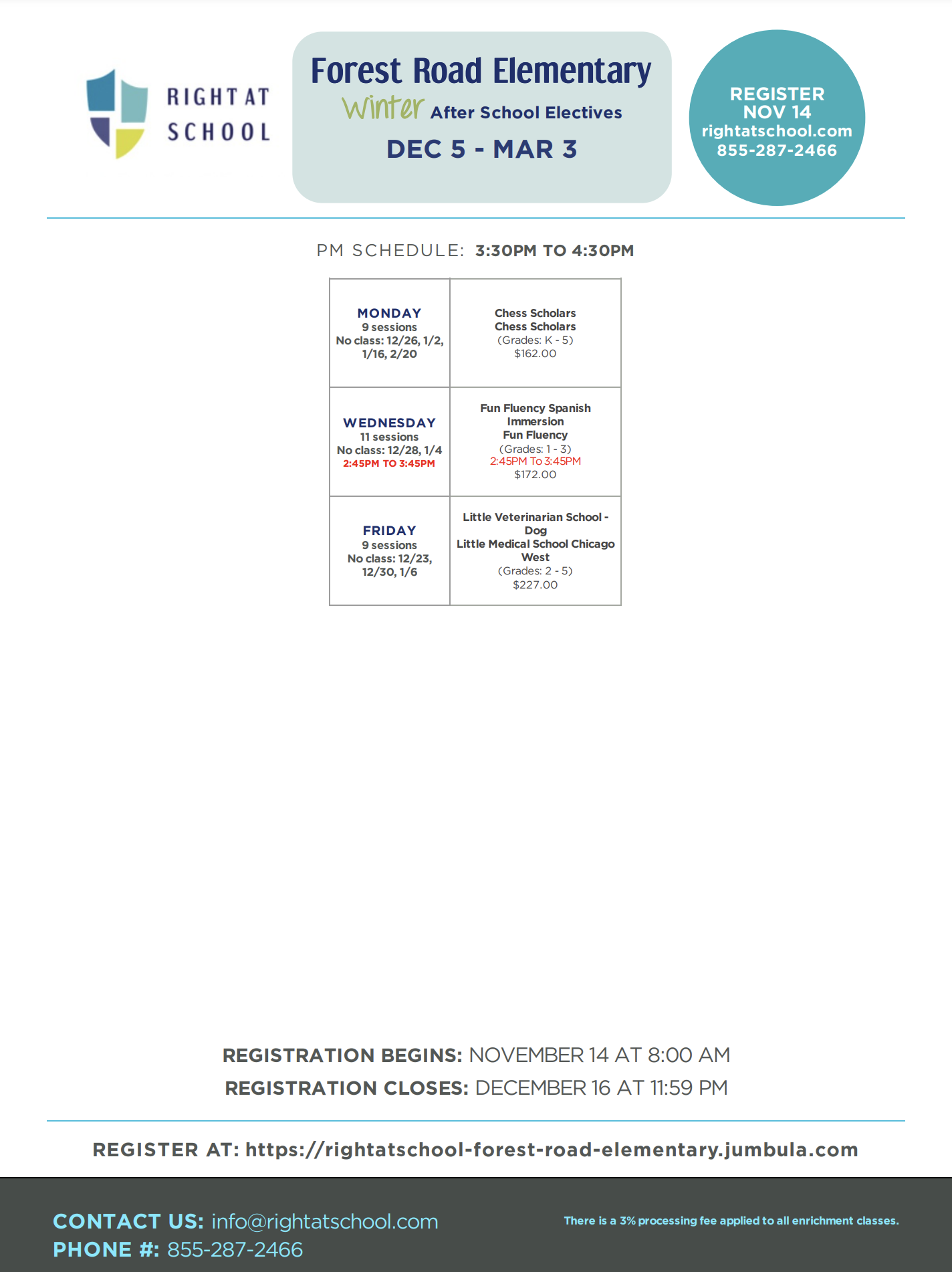 We have been fortunate to have great weather the first few weeks of school and have been able to get kids outside to play on a regular basis. Just a reminder that the playground, basketball court, and blacktop areas shared by both Barnsdale and Forest Road are closed to the public during school hours (8:15-3:15). In order to ensure the safety of our students, we limit the use of these areas to only students and staff members during the school day. We kindly ask that parents refrain from having younger siblings and/or preschoolers who are not in session use these areas during that time. We thank you for your cooperation and helping to keep all of our students safe!
Is Your Child Vaccinated?
District 102 invites families to voluntarily share an electronic image of their child's vaccination card with their building's health office. Providing proof of vaccination is not required.
Copies of proof of vaccination will be kept in each student's individual health file and treated in the same way as all health records. Please feel free to send a picture of your child's COVID vaccination card to your school nurse.
FR Nurse Kelli Kalata kalatake@dist102.k12.il.us
Chromebook Care Notice to Parents
Referral GPS - Connecting People to Treatment
We are committed to creating a culture of well-being of students, staff, parents, and community. In an effort to continuously support this commitment, the district has entered an agreement with ReferralGPS.
ReferralGPS is a web-based service focused on assisting our students, staff, and community in finding local mental-health and substance use related treatment. The service compliments the district's existing systems of support as a tool for student service teams and families to connect with treatment. Along with a searchable database of treatment options, ReferralGPS provides Care Navigation to assist families in triage, appointment setting, and follow up care.
School families may access ReferralGPS in two ways:
1) Visit this link at https://referralgps.com/find-help/dist102 to search for treatment resources or connect with a Care Navigator anonymously.
2) Contact Student Services (social workers, psychologists, counselors) to seek out treatment options.
ReferralGPS takes into account all types of private and public insurance including PPO, HMO, Medicaid, Medicare, and families who are uninsured or underinsured. The platform also filters by age, gender, zip code, and special requests.
ReferralGPS is available for use by district students, staff, and families at no cost. All information entered on the ReferralGPS tool is completely confidential and securely stored.
If you are interested in seeking counseling-related services at this time, please consider visiting https://referralgps.com/find-help/dist102 or reaching out to the Student Services team.
D102 Superintendent Search Process
The LaGrange District 102 Board of Education has begun searching for a new superintendent. We have selected SCHOOL EXEC CONNECT, an educational search firm, to assist us in this process. You should have received an email on November 1 providing more in-depth information.
We are interested in receiving your input about the new superintendent. We would appreciate it if you would take about five minutes to fill out an online survey that will be available from November 1 thru November 24. Please check the District website for the survey link, or access it directly here.
Findings from the survey, the open forums, and several focus group conversations will be used to develop a New Superintendent Profile that will be reported to the Board on November 30.
Sincerely,
Michael Melendez - President, Board of Education
LaGrange School District 102
Join the Forest Road PTO (Parent/Teacher Organization)
Forest Road Environmental Club - Trick or TRASH!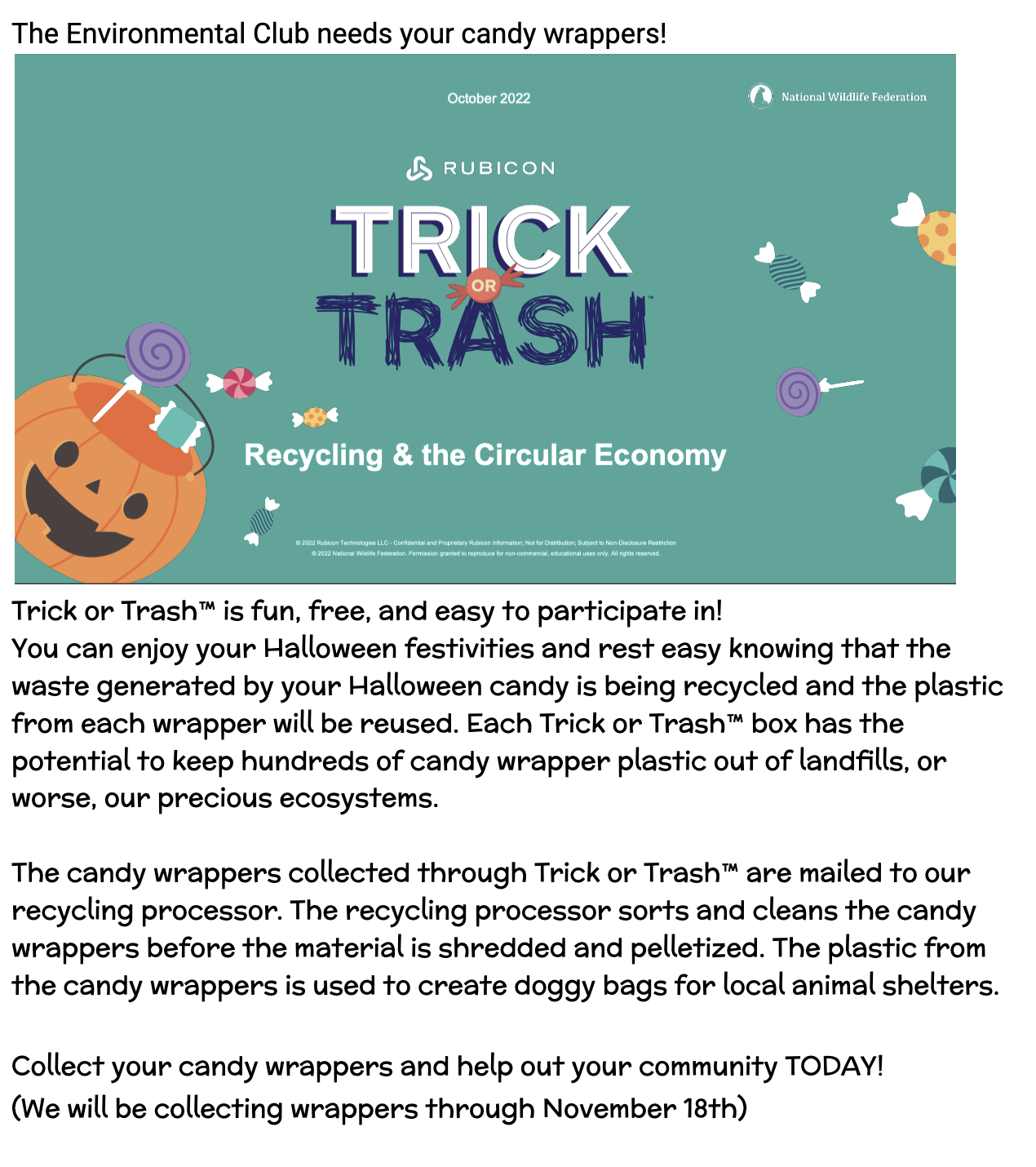 Forest Road Thanksgiving Food Drive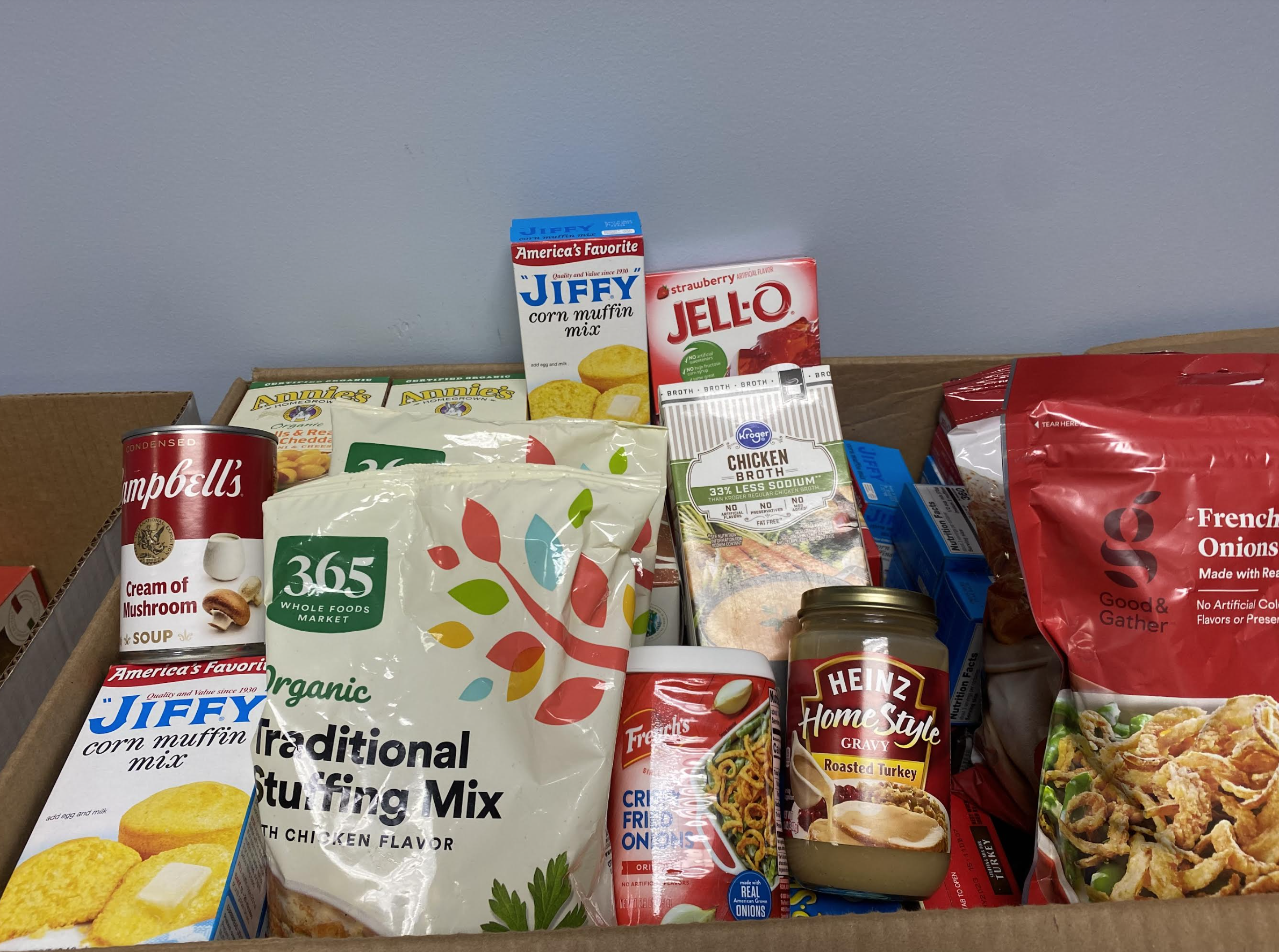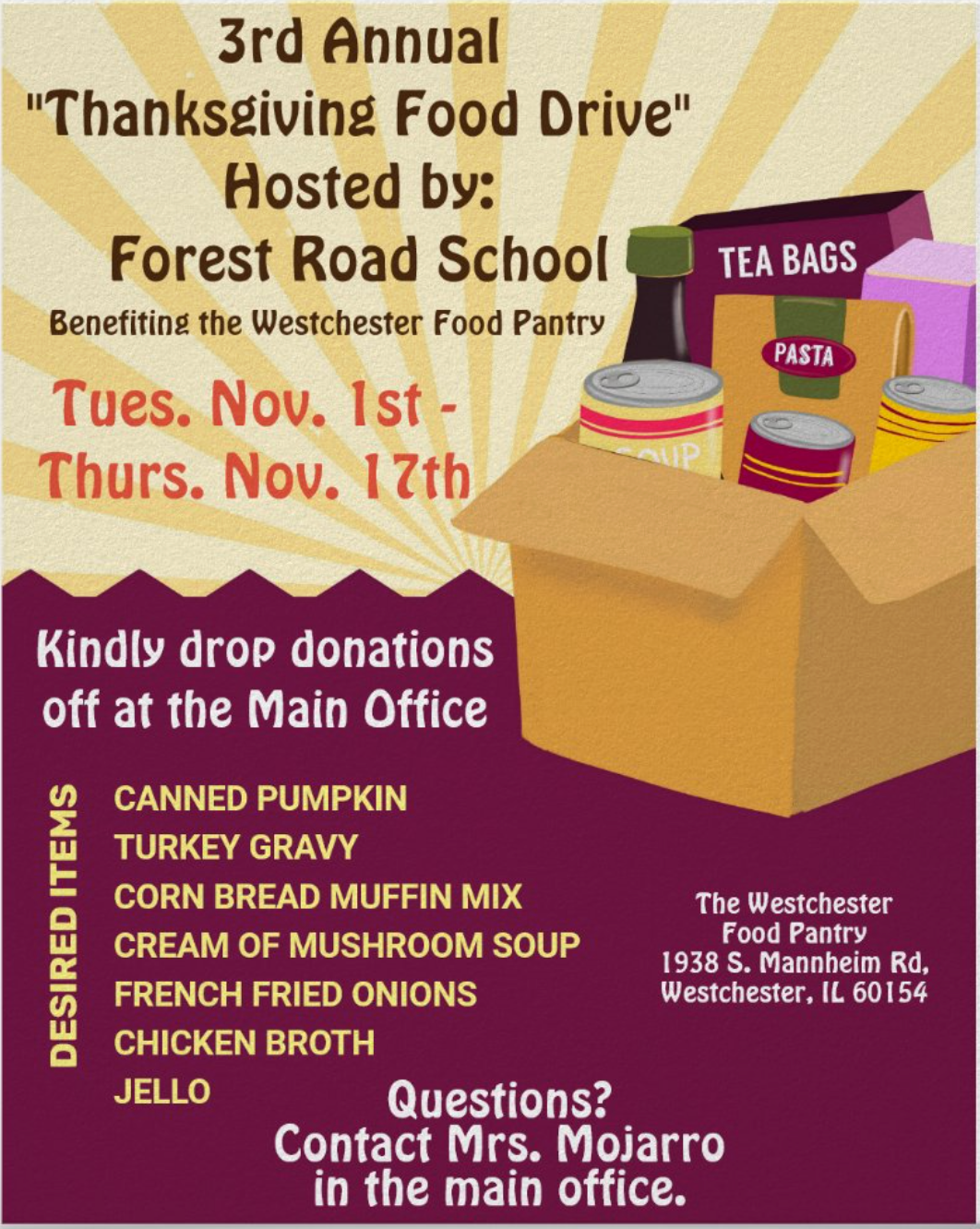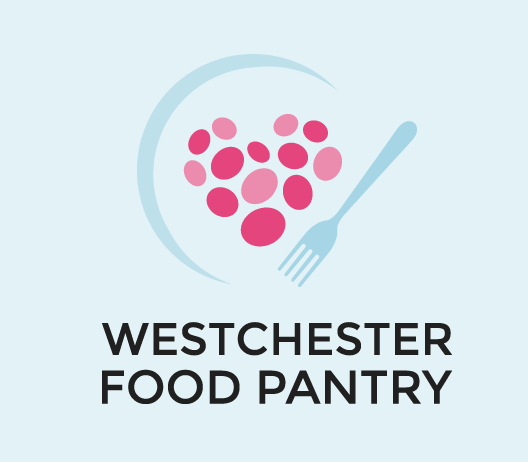 Forest Road School continues to support the Westchester Food Pantry. We accept brown paper bags with handles all year round. Please send all bag donations with your child(ren).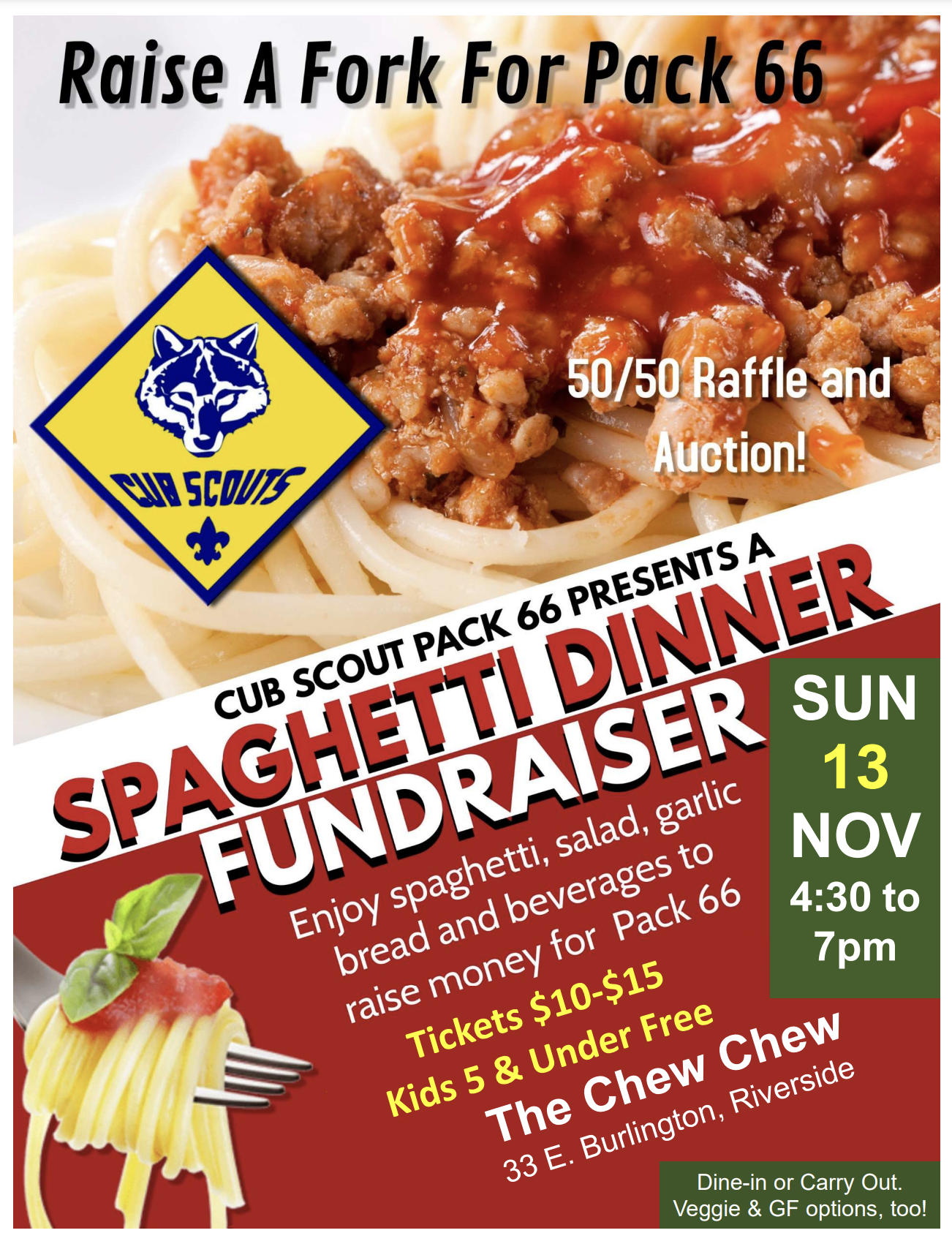 District 102 is looking for Paraprofessionals - Apply Now!
LaGrange District 102 is committed to building and sustaining a multicultural school community that fosters equity, diversity and inclusion.
Link to apply: http://www.generalasp.com/D102/onlineapp/default.aspx?all=1

Qualifications:
State of Illinois Professional Educator License (PEL) with Paraprofessional endorsement within 90 days of employment

Knowledge and experience with Google suite

Ability to maintain confidentiality

Excellent communication skills
Responsibilities:
Adapts classroom activities, assignments and/or materials under the direction of the classroom teacher for the purpose of supporting and reinforcing classroom objectives.

Communicates with teachers and other district personnel for the purpose of assisting in evaluating progress and/or implementing IEP objectives.

Implements under the supervision of assigned teacher, instructional programs and lesson plans (e.g. reading, math, language comprehension, writing, computer, etc.) for the purpose of presenting and/or reinforcing learning concepts.

Maintains classroom equipment and work area for the purpose of ensuring availability of a safe learning environment and/or meeting mandated requirements.

Monitors individual and/or groups of students in a variety of settings (e.g. rest rooms, playgrounds, hallways, bus loading zones, cafeteria, assemblies, field trips, etc.) for the purpose of maintaining a safe and positive learning environment.

Promotes good study habits and student independence for the purpose of improving the quality of student outcomes.

Provides, under the supervision of assigned teacher, instruction to students in a variety of individual and group activities (e.g. self esteem, behavioral skills, daily living skills, etc.) for the purpose of implementing goals for remediation of student deficiencies and ensuring student's success.

Documents student's daily activities (e.g. behavior, completed assignments, on/off task times, etc.) for the purpose of completing daily logs and student's hourly activities.

Implements under the supervision of assigned teacher, behavioral plans designed by IEP team for students with behavior disorders or other special conditions for the purpose of presenting and/or reinforcing learning concepts.

Models conversation, manners, clean up activities, listening, and everyday interactions for the purpose of demonstrating appropriate social behavior in a culturally sensitive manner.

Monitors student's daily schedule and behavior plan (e.g. class schedule, toileting, medication, appetite, etc.) for the purpose of maintaining a safe and positive learning environment.

Responds to emergency situations (e.g. injured students, arguments, etc.) for the purpose of resolving immediate safety concerns and/or directing to appropriate personnel for resolution.

Supervise students in and out of classroom activities during the assigned workday

Participates in team planning as requested

Maintains substitute folder with information essential for successful substitute assignment

Performs other tasks and projects as assigned by the Building Administrator/supervising teacher
Application Procedure
Online applications only, please. http://www.generalasp.com/D102/onlineapp/default.aspx?all=1
The LeaderShop After School Programs - Deadline October 28th

The Leader Shop will be hosting after school programs to provide homework assistance and social emotional learning activities.
Find out more information about services offered through the flyers below.
Register at: tinyurl.com/TLSASP2223
Questions?: (708) 579-5898
Order your 22-23 Yearbook NOW and save 10%