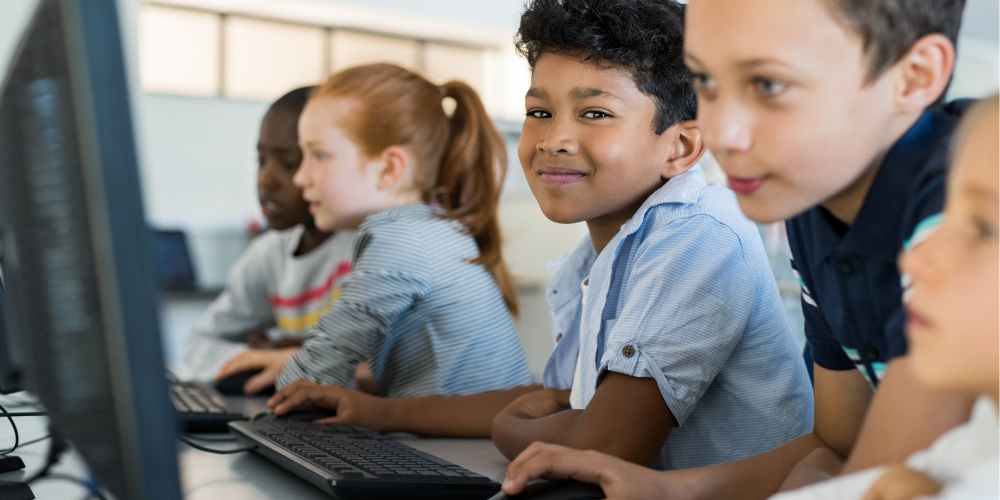 The Philosophy:
Technology has become the cornerstone for teaching and learning resources. More important than having adequate tools is having adequate training to properly integrate technology into the student curriculum. "Technology is just a tool. In terms of getting the kids working together and motivating them, the teacher is the most important." - Bill Gates
At District 102, we strive to keep our students engaged. By staying on top of current technology, we can effectively meet the children where they are, then help guide them in a direction in which they can be successful. One method of accomplishing this is exposing them to the awesome world of technology and the possibilities that it can provide them.
As a Pre-K to 8th-grade school district, we have the unique opportunity of placing technology in a child's hands, in an educational setting, for the very first time in their lives. We maintain that opportunity until they move on into their teenage years. The development that takes place between this time period is unparalleled. We acknowledge this responsibility and have made a commitment to fully support that ever-changing growth and constant development to "Every Child. Every Day. No Exceptions. No Excuses".
District 102 maintains full alignment of guidelines outlined under the CIPA, SOPPA, and all other Illinois Internet Safety Statutes and Regulations.
District 102 Students and Parents are responsible for the proper use and upkeep of technical equipment under Technology Use Agreements (Student and Parent)
"Coming together is a beginning, staying together is progress, and working together is a success." – Henry Ford
Technology in District 102
The New Look - 21st Century Learning Platform
Greetings!
We are excited to present the new District 102 technology platform for all K-8th grade students
LaGrange SD 102 Students
District 102 provides brand new DELL 2-in-1 Chromebooks for our 1st-grade students. These Chromebooks will be the students to keep until the end of 4th grade.
District 102 provides new, more powerful, DELL 2-in-1 Chromebooks for our 5th-grade students. These Chromebooks will be the students to keep until the end of 8th grade. Our students are then given the opportunity to buy the Chromebooks for $1.
**All La Grange District property is fully expected to be followed under the (A)cceptable (U)se (A)greement policy. Students will be held responsible for any damages made to technical resources provided**
Internet Assistance Program
We encourage families to take advantage of Comcast's Internet Essentials program to provide greatly discounted internet service for those who are eligible to participate in the National School Lunch Program. More information can be found on Comcast's Internet Essentials program by visiting: http://www.internetessentials.com or calling 1-855-846-8376. If you have questions unique to your situation that you would like to discuss, please contact our district liaisons at liaison@dist102.k12.il.us.
LaGrange SD 102 Staff
District 102 provides classrooms with state-of-the-art technology
All classrooms are supplied with brand new iPads, equipped with mobile stands for versatility.
All classrooms are equipped with 65' HDTVs in which connect via Apple AirPlay or by using HDMI connections.
All classroom teachers are provided MacBook Airs, with a host of cutting-edge applications used for instructional purposes.
All staff have the ability to remotely print and retrieve documentation anywhere in the district upon request from their devices.
LaGrange SD 102 District Upgrades
None of these resources would serve any functional or sustainable purpose without the successful completion of our network infrastructure project in 2019.
District 102 has upgraded the phone system. It is now fully operational over internet connectivity or VoIP platform.
This upgrade has provided the District ability to:
Make/receive calls remotely

Retrieve voicemails via email alerts

Speak to staff via push-button/using your keypad

Text message

Video call

...and many more functionalities
As the Director of the department, I am exhilarated by the accomplishments of the District and the support of Superintendent Schumacher in making La Grange SD 102 one of the premier educational institutions in the state. Being fully staffed with an IT team that is all certified through Google, PowerSchool, JAMF, DELL, and others, we continue to make a commitment to providing top-grade technical support. Strides have been made on many fronts in this District. The Technology Department is no exception.
Notification of Data Breach Involving Illuminate Education, Inc (FastBridge)
SOPPA Compliant Applications